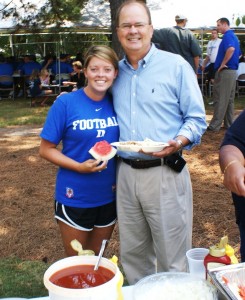 The Duke Football team went to the Durham Rescue Mission on Sunday afternoon to feast with kids and parents in yet another effort to reach out to the Duke Community.  BDN was on hand and able to procure a few comments from Coach Cutcliffe about the upcoming season.  Season tickets and plans may be purchased at GoDuke.com.  The beginning of the interview was with other media members, but there is a break when I was able to talk to the coach one on one.  Enjoy the interview and support Duke Football -
"When we come out here there is no question who benefits the most, we do.  This is an uplifting experience for our players and certainly I see the children thrilled, their moms thrilled ... this is an event we will continue to do every year." said David Cutcliffe.
Since you have come to Duke, you have stated you want to be Durham's team and this is but another example ...
Yeah, it is.  One of the things I want our players to realize that when they are out in Durham, how positive of a place it is.  This facility here is surrounded by beauty here.  The players recognize that there are quality things going on in Durham.  The rescue mission and women's rescue mission both.  I want our players to realize it's a bigger picture than just playing in Wallace Wade.  There is a Duke community, a Durham community and a social community and our players do a good job.
You are getting ready to start the season ..
We start August 6th, we report August 5th.  This team is prepared, I know they are in condition, I know they are hungry , I know they are eager.  We've got a big challenge in front of us where we open with last year's national champions in the football play off sub division.  Richmond is a big challenge right off the bat, but I think this team is ready and it is going to be interesting.
On N.C. Central ...
Well, Mose Risen and I have become friends and our assistants have had relationships with him.  So, we went to lunch and started talking about what it would mean to his program and what it would mean to Durham to have a classic game between our two major institutions in Durham, so as we talked about it, I went to Kevin White and Stan Wilcox in our administration and told them it was something I would like to pursue.  It'll be a great thing.  Everywhere I go in Durham, the Central fans are telling me we are going to get beat.  There is a lot of interest, even with our employees on Duke campus who have been around Central for years.  It's amazing that the two have finally got together and I think it is going to be a lot of fun.  It's a 7:00 kickoff and I hope we get great weather late in September, a September evening can be wonderful and I really pray that Wallace Wade doesn't have enough seats.  I want to see standing room only and a great night of fierce competition between two fine football teams.
On being Durham's team ...
We have a great community and being such a small institution, the numbers, just crunch the numbers, we've got the best bargain in town.  No offense to Central, no offense to the Durham Bulls, but we have the best bargain in town.  It's a great family experience, six or seven home games, fun for kids, fun for wives and husbands.  I want people to understand that it is wide open and there is a great opportunity to follow a great football program.  We go out into the community, I do a lot of speaking in the community, go to a lot of churches and civic organizations.  We want to be a part of Durham.  We love Durham and being a part of it.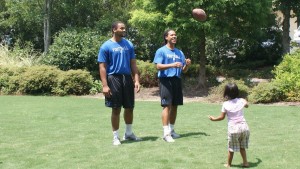 (BDN questions from this point on) Will a game like Central give you an opportunity to show Durham fans that this is a team that wants your support.
If they come, they will have a lot of fun.  There is not a bad seat in Wallace Wade, it's really relatively easy in and out.  I have been told, but I haven't eaten one, that we have great hot dogs and concessions.  We have improved the rest room facilities for the coming season and there is an on-going process to make our stadium even more fan friendly.  We have blow-ups for kids, tailgating, whatever you want to eat and enjoy a Saturday afternoon.  And our ticket prices?  You can get a family four pack, or four tickets for a 199.00 for the entire season.  You can have a blast being a part of Duke Football.  My thought is if we can continue to get our players out in the community people will grow to love our kids just like I have.  We have the finest young men around and I want people to realize they are pulling for a bunch of great young men that are a positive part of that community.
Coach, you seem to be instilling that in your players.  Do you have a sort of prerequisite that you expect your guys to adhere to?
Absolutely, you know how important it is to all of us.  It's in our staff and in our team room it's faith, families and future in front of football.  We put our faith, family values and the future in all that we do and it is all a part of a life lesson.  I have always done that in 34 years of coaching and I am not about to change now.  They can call it old-fashioned, they can call it boring that you should be focused totally on winning games, but I believe that helps you win football games.  When you have a gut check in the fourth quarter and you care about each other and you have made it family, then I believe you are willing to fight a little harder and a little longer for victory.
Coach, you've got a 100 yard practice field down there now.  It looks really good ...
Huge!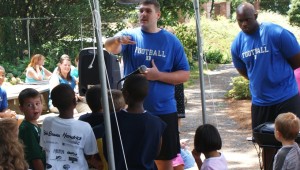 Can you comment on what it means to have better facilities now and on the way?
Well, I said this comically but not comically - we would get to the 25 yard line and not know what to do, we had 75 yards of field.  We were the only program in America without a 120 yard practice field, so it is huge.  I can conduct a practice like we like to practice on one field if need be.  If we get rain or the grass field is too wet, we can put our team there and operate and absolutely be good to go.  And recruiting?  The practice center is just about finished down there and we can go in and we'll have special teams meetings, real good visual effects and Coach Middleton will get them pumped and into it and we can go straight on to the field right from there and execute it.  We love to have special teams meeting prior to practice and the good part of it is this is just phase one and we are going to continue this.  People also realize that Duke Football is here to stay.
Coach, the freshman are in, the kids are on campus.  How do the guys look overall?
Really good.  A good looking group of freshman.  We have 27 scholarship freshman, a few more walk-ons who have come in and gone to school.  We will have a few more walk-ons in August.  So our squad is going to have about fifteen more players on the squad than what we had a year ago.  And that is significant in how we will practice.  The conditioning level of our team?  It's as good as any I have been around.  I couldn't say that a year ago.  My hat is off to Noel Durfey, Sonny Falcone (strength and conditioning) and their staff.
So, there is a firm foundation and the guys are adhering to that?
Absolutely.
... and that's the way it is going to be with Duke Football?
This is what they expect, we've really made them understand, it is not going to be easy.  Nothing about playing football at Duke is going to be easy.  It's not an alternative to where you think you are going to win, those days are past, it's all history.  The only reason why we want you is because you are a winner on and off the field and if you are not don't even consider coming to Duke.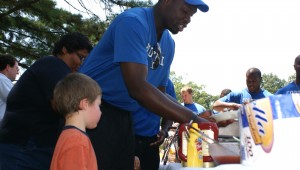 The staff is almost ready to go ...
Our coaches are just coming off vacation and everybody reports the same day.  The reporting date is officially August the 5th and we are on the field the 6th.  I don't think I have ever been so anxious to see how this squad throws, catches it, runs, intercepts it, breaks on the ball, all of those things.  I can't wait to see what this team looks like.
Coach, you are making great strides in recruiting in state.  Can you talk a little bit about that?
Relationships!  We've got a lot of long time relationships with coaches in this state whether it is myself or Jim Collins, Scottie and others.  I started recruiting this state as an assistant in 1982.  That's a long time ago now, unfortunately longer ago than I want to remember.  Being a communicator with our coaches and being proud to be a part of the state of North Carolina.  I promise you, if you can play in this state, we are going to recruit you.  Obviously, we have certain needs but we are out there knocking the doors down and we continue to do that.
Can you comment about the off-season quarterback college and the camps?
We had our quarterback college and the camps and little guys camps.  It was as a big a success that I have been around.  I don't know the exact numbers but we taught them Duke football and Duke strategy.  We don't run those camps just to recruit.  I tell our coaches all the time, that I don't want a bunch of hugging and pats on the back.  I want coaching and want them to understand what Duke Football is about and, as I said, it is not going to be easy.  So, we work them as hard as we can and it gives those kids an idea of what is happening here.  And I tell our coaches, the good players know you are serious about it and the reason they can be good is that these guys can coach so there is a side benefit.  I love what we are doing in camp right now and the kids will go and tell that we are serious about football.
Do you know how many days remain before kickoff against Richmond?
I don't keep up with that, but my secretary Peggy is sure to remind me.  All I know is that we have 29 practices to prepare and we'll be ready.