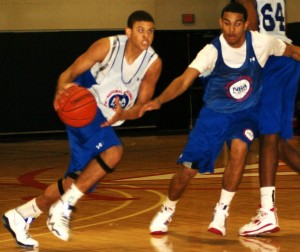 Ray McCallum, Jr. is a listed 6'1" point guard from Detroit Country Day in Beverly Hills, Michigan. His father is the head coach at Detroit Mercy and was formerly an assistant under Kelvin Sampson at Indiana and Oklahoma. After his father took the head coaching job in Detroit, McCallum moved from Bloomington, Indiana to suburban Detroit. The diminutive and cerebral point led his new team to a 24-2 record and has developed into one of the more coveted point guards in the country. During the recent LeBron James Skills Academy, McCallum sat down with Blue Devil Nation to talk about a variety of topics.
(Blue Devil Nation Premiums summer AAU coverage is unmatched.  Andrew Slater reported live from LeBron James Skills Academy this past week and the interviews are now rolling in.  Mark Watson is headed to the Peach Jam, so the in person coverage continues.  In fact, BDN will cover the rest of the major AAU events this season with our dedicated staff.  Join now to see what you are missing.  In a recednt survey our members overwhelmingly agreed that BDNP is the best subscription site around.  You'll be glad you did.)
Blue Devil Nation
How is your recruiting going right now?
Ray McCallum:
It's been good so far. I'm having fun with it, you know. Just trying to enjoy it because you only go through it once in your life. I'm just trying to enjoy it.
Blue Devil Nation:
Do you have a time frame for when you'd like to decide by?
Ray McCallum:
No, I'm just trying to enjoy the rest of the summer and again the last time I'm playing AAU ball. Have fun…see where I end up at the end of the summer and which schools are still interested in me.
BDN:
I'd really, what are some things that you'll find in the school that you ultimately decide upon?
RM:
I want to go somewhere where there's a good coach, a good team, a good history, a place where I can play, play my game, win, you know, academics. Everything really, you know.
Blue Devil Nation:
How important is immediate playing time for you?
Ray McCallum:
That's my main goal. I mean I've been playing since I was little and I've always wanted to do that. I've been starting since I was a freshman. I'm going to leave it up to that and try to go somewhere where 


Sorry, but you must become a premium subscriber to view the rest of this post.

Join now by visiting the PREMIUM MEMBERSHIP link at the top of the page, where you can learn more about the benefits of a Blue Devil Nation Premium membership.