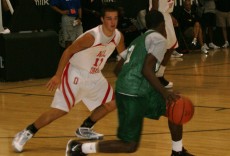 Kyrie Irving joined the New Jersey Celtics after playing with the NJ Roadrunners for today's match up with Jared Sullinger and Peach Bowl and Boo Williams AAU Champions All Ohio Red.  The Celtics clawed their way back into the game on the heels of good three-point shooting to pull off what is easily the upset of the tournament.  The much shorter Celtics held the powerful All Ohio front court at bay en route to the 57-53 win.
Irving played a key role, stealing the ball and scoring on a drive where he reversed his body, made the hoop and was fouled.  He connected on the free throw to give his team a two-point lead, then forced another turnover and shortly thereafter finished the game off with a steal and score.  The Celtics climbed to 2-1 to pull even with All Ohio Red.  Irving finished the game with 22 points.
BDN spoke with Irving after the game, and more on that conversation will be available to premium members.  The Celtics next take on Team Final.