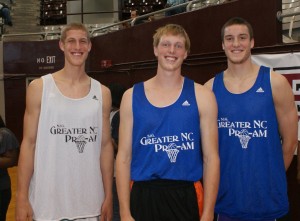 The 2009 NC Pro Am kicked off tonight at North Carolina Central and Duke was represented by the Plumlee brothers, Kyle Singler and Ryan Kelly.  Players from all over the state compete in the event.  Those players could be in high school, college, retired or the pro's.  For instance, the Charlotte Bobcat's Sean May played tonight and Jerry Stackhouse and others will hit the floor before the event is over.
Ryan Kelly played in the first game and his team squeaked out a win in double overtime.  Kelly ended the night with 14 points.  Kelly set a lot of high picks, but he seldom got the ball back on the roll.  He had one key block to help send the game to overtime.  There was one sequence where Kelly had his shot blocked but recovered the ball to put in a jump shot.  On the next possession, Kelly threw down a dunk.
In a bit of irony, Mason Plumlee faced off against brother Miles Plumlee and his teammate Kyle Singler.  Much like last year, the refs seemed to have quick whistles on the Dukies, with all three collecting nine combined fouls in the first nine minutes of the game.  Most of those calls came late or from perceived contact.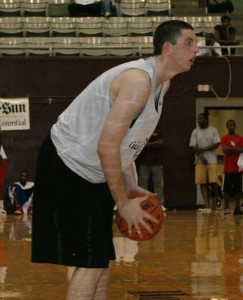 The refs let the teams play in the second half and that made for an entertaining game where the lead exchanged hands several times.  Singler was his usual steady self in that he did pretty much everything on his way to 14 points.  As our premium members know, Singler will now head to the LeBron James Skills Academy to finish out the week.
His teammate Miles Plumlee scored 6 points and showed a good handle with the ball.  Both Singler and [Miles] Plumlee had a bushel of rebounds in the contest.  They were also assisted by ex-UNC star Jawad Williams who scored 18 second half points, but despite their efforts, they came up short.
On the other hand, Mason Plumlee showed that he will be a force this season by leading his winning team in scoring with 16 points, several of those coming on solid dunks.  There was one play where a driving guard bounced the ball high and Mason ran behind him on that break to catch it for a dunk which drew a good crowd response.  He later threw down another reverse dunk as the PA announcer said, "Mason Plumlee has arrived and is in the house."  But the dunk which brought the most oohs from the fans was when he went down the baseline and crammed an authoritative power dunk on his brother.
The action will continue and if you are in the Triangle area, admission is absolutely free.  Here is the web site for more details -Link to NC Pro Am
We'll discuss the Duke players more thoroughly on the BDNP Message Board.