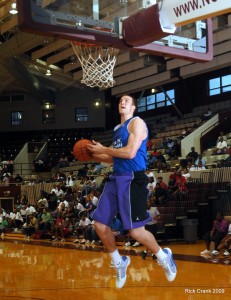 Five Duke Blue Devils were in action this past Thursday evening during the North Carolina Pro Am event on the campus of North Carolina Central.  Mason Plumlee and Jon Scheyer took the court first and the two Dukies teamed very well together.  In fact, that teamwork is a big part of Team Duhon's 3-0 record.
Mason would finish the game with 17 points, 7 rebounds, 2 blocks and 2 assists.  Mason is impressive in that he has a good handle for a big man and can make the good pass.  While the majority of his points came in the paint or dunks, Mason drained his only three point attempt.
The crowd came to their feet when Mason tried a windmill dunk where he extended his long arm, but a foul stopped the show.  Still, Mason a good free throw shooter, drained both shots.
Meanwhile, Scheyer knocked down two threes early and wound up with 16 points on the evening helping his team win 68-58.  Scheyer had three assists and several blown ones on my watch, but I could have missed a few.
Lance Thomas made his first appearance where he joined teammate Ryan Kelly and rival Ed Davis (UNC) to form a pretty good front line.  Davis scored 21 points after hitting just 6 earlier in the week.  He was aided by some Kelly passes.  Speaking of Ryan, he would go on to score 12 points himself.  Thomas added 12 points as their team won easily.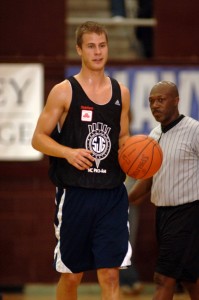 In the nightcap, Miles Plumlee had the unenviable task of holding down UNC's John Henson, Leslie McDonald and Justin Watts.  His team was without Kyle Singler who attended the LeBron James Skills Academy.
Henson threw down three effortless dunks and has really quick hops.  He rejected Miles one time, but there was payback.  Henson is the real deal and ended up with 14 points making some showboat plays, but Plumlee got his licks in, once getting beat but recovering to make a nice block.  To round out the play, he recovered the blocked ball, dribbled the length of the court and dished out an assist.  One block was called goal tending as well and there was one of the worst charge calls I had ever seen on Miles.
Justin Watts lit up the nets for 21 points and McDonald added 12, but their team blew a 12 point lead and wound up losing 54-53.  Plumlee hit two big free throws to put his team up a single digit with 1:33 left and they held on for an impressive win.
The action continues next Tuesday and admission to the event is free.