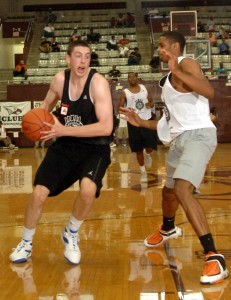 Four Duke Blue Devils took to the floor in McDougald Gym on the campus of NC Central during the continuing NC Pro Am event.  Interestingly, the Dukies went head to head, two each playing for WR Starkey and Team Duhon.  Coming into the game Team Duhon was a the top of the standings led by Mason Plumlee and the sharp shooting Jon Scheyer.
On this night Team Starkey would claw their way to a 69-60 victory behind Lance Thomas and Ryan Kelly.  Kelly paced his squad with team high 10  first half points showing a soft touch from the outside.  Oddly, Ryan did not play for a good nine minutes in the second half despite his effectiveness.  Kelly would end the game with 16 points and had a couple of dunks at the start of the game.
His teammate Lance Thomas tallied 8 points and as usual was active on the floor.  Thomas even drained 1 of 2 three point shots, the first, a misss looking as if he was uncomfortable with the shot.  Still, Thomas was putting more arch on the ball than I had seen during his career at Duke.
Mason Plumlee has had some good showings, but his shots were dropping off the rim early where he started 0-6 from the field.  He came out in the second half and nailed a three point shot, finishing with 7 points.  It is worth noting that he had some early foul problems as well.
Jon Scheyer hit four three point shots and missed maybe two shots the entire game.  He scored a team high 18 points and had several open looks where teammates took the ball one on one.  But that is the nature of the game in this event where all of the players want to shine.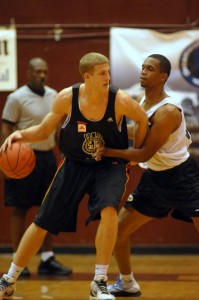 The action continues this evening and admission is free, so stop in if you are in the area.  All photos from this event are provided by Rick Crank Photography.  Crank will continue to be a part of Blue Devil Nation and other ventures.
6 pm KG vs Lucky 7
7 pm WR Starkey vs Navy
8 pm God Bless My Success vs Team Duhon
9 pm Hendricks vs E-Net