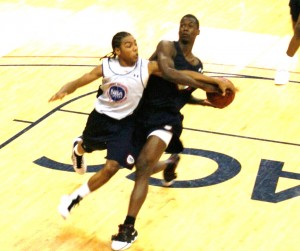 What can Blue Devil Nation Premium do for an encore after covering almost every major event?  Well, go to Vegas of course.  Not only will Coach Krzyzewski be named the coach for Team USA again, he will be taking in the nation's top high school prospects with a portion of his staff.  BDN's Andrew Slater is in route to Vegas now.  In fact he just reported in mid-air on our members only message board that Seth Greenberg and other coaches were on his flight.
Slater just finished his very popular coverage of the LeBron James Skills Academy and I just finished up the Peach Jam and will head to Orlando and the AAU Nationals this weekend to bring you the best AAU coverage of Duke prospects anywhere.  At BDN, we get out to the events in order to tell you who the staff is watching and we bring you live updates from the events followed by interviews shortly thereafter.
There is not one other premium subscription site that can lay claim to covering all but two major events.  In fact, they usually get their information from national recruiting gurus who do not concentrate on Duke prospects.  If you have been on the fence about joining, now is the perfect time.  I am so certain that you will like the coverage that I will grant a full refund within 24 hours of signing up.  The BDN staff thinks you will be hooked once you try us, so what are you waiting for?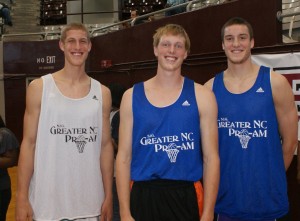 To get an idea of our premium offerings, highlight them and scroll down at the latest entries.  Our information is timely and accurate and quite frankly ahead of the curve in every way.  If you are a recruiting junkie, you are missing out every second you wait.
We'll be announcing some site changes tomorrow and will give you authentic testimonials from our members which says it all.  Isn't it time you subscribed to the best - Blue Devil Nation Premium?  Once you have joined you can discuss the very latest happenings on a message board you are sure to love for it's unique members' insights.  Come on in, the water is warm and the information is as sizzling.  If you don't like the site, I will give you a full refund within 24 hours.  We are the hardest working Duke Internet site around for that is what it takes to bring you the coverage Duke Athletics deserves.