Archives by date
You are browsing the site archives by date.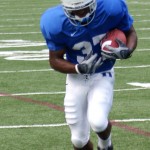 By Mark Watson on August 31, 2009
The Duke Blue Devils kick off their second season under Coach David Cutcliffe when Richmond visits Wallace Wade Stadium this Saturday evening at 7:00.  Duke will look to build on last season's four wins, but to do so will require that playmakers step up at the wide out positions.  Last season the Blue Devils leaned […]
Posted in Duke Football | Tagged Austin Kelly, Connar Vernon, Donovan Varner, Duke-Richmond, Johnny Williams, Tyree Watkins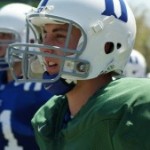 By Mark Watson on August 31, 2009
Duke backup quarterback Sean Renfree now has two years of practice under his belt and he hopes that means more reps.  During the pre season workouts, Coach Cutcliffe has praised Renfree stating that he would play this season.  How many reps Renfree gets remains to be seen, but in a recent interview the Devils future […]
Posted in Duke Football | Tagged Duke Football, Duke-Richmond, Sean Renfree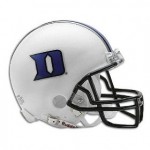 By Duke Sports Information on August 29, 2009
Note – Much of the BDN staff is on the road this weekend, thus slow updates until Sunday. DEPTH CHART RELEASED Duke head coach David Cutcliffe has announced the official depth chart for the season-opening game against Richmond … On the offensive and defensive charts, 48 players are listed including eight seniors, 17 juniors, 10 […]
Posted in Duke Football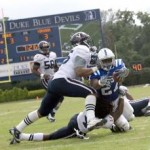 By Mark Watson on August 27, 2009
BDN caught up with Duke running back Jay Hollingsworth after today's steamy practice.  The Devils are preparing for Richmond who they face in the home opener at 7:00 next Saturday evening.
Posted in Duke Football | Tagged BDN, Duke-Richmond, Jay Hollingsworth
By Andrew Slater on August 27, 2009
Austin Rivers, a nearly 6'5" guard from Winter Park, Florida, was a basketball prodigy who has been on the radar of scouts since he was in middle school. The fact that his father is Glenn "Doc" Rivers, a thirteen year NBA veteran and current head coach of the Boston Celtics, and his older brother Jeremiah […]
Posted in BDN Premium Articles | Tagged Austin Rivers, Blue Devil Nation Premium, Duke Basketball Recruiting News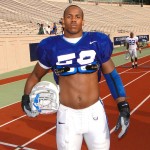 By Mark Watson on August 26, 2009
BDN caught up with Duke LB Damian Thornton after a recent scrimmage -
Posted in Duke Football