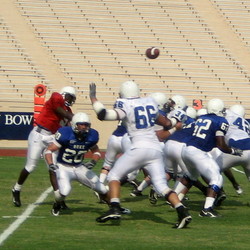 Kick-off to the college football season is just around the corner with practice in full swing including intrasquad scrimmages. Blue Devil Nation takes a tour around ACC newspapers to see what is being reported about the teams on this season's schedule:
Virginia Tech is searching for a starting running back after losing Darren Evans to a torn ACL. Evans rushed for 1,265 yards last season. Duke will host the Hokies on October 3 in the first of eight straight ACC games after starting the season against four non-conference foes.
NC State scrimmaged on Thursday but Coach Tom O'Brien isn't releasing statistics. However, posts on Twitter state QB Russell Wilson threw two touchdown passes. You gotta love Twitter. LB Nate Irving will miss the season due to serious injuries suffered in a car accident. On the other side of the injury coin, the Wolfpack will see the return of running back Toney Baker who has missed the last two seasons with a knee injury.  Duke travels to Raleigh on October 10.
The Baltimore Sun reports Maryland is loaded with speed at the wide receiver position and Coach Ralph Friedgen isn't happy with what he perceives as a lack of respect from the media. The offensive and defensive line could be trouble spots for the Terps due to inexperience. This scrimmage report quotes Coach Friedgen as saying the Terps are way ahead on defense. The defense recorded 11 sacks, which should raise some eyebrows about the offensive line. Duke will host Maryland on October 24.
The Charlottesville Daily Progress reports the Virginia coaching staff is focusing on making progress one day at a time over evaluating the pecking order at individual positions. New Offensive Coordinator Gregg Brandon is installing the spread offense he employed as Bowling Green's coach the past six years. The Richmond Times-Dispatch has this report on the situation. The Cavaliers will also be looking to score points via special teams and the defense. Last year they scored only one non-offensive touchdown all season. Duke travels to Charlottesville on October 31 to face a team they beat 31-3 last season.
North Carolina is suddenly thin on the offensive line after left tackle Carl Gaskins tore his ACL in practice last week. Coach Butch Davis discusses the offensive line situation, depth at cornerback, and other topics, in this interview. Carolina has not scrimmaged to date. The News & Observer has a nice article posted on backup QB Mike Paulus. Duke travels to Chapel Hill on November 7.
In Atlanta, backup QB Jaybo Shaw broke his collarbone during Saturday's 11 on 11 drill. Shaw played in seven games last season including a start against Duke. He will be out at least six weeks and it is possible he will redshirt. This Atlanta Journal-Constitution article states the Georgia Tech passing game looks good and running back Jonathan Dwyer, last season's ACC player of the year, had a good practice on Saturday. Duke will host Georgia Tech on November 14.
Duke travels to Miami to face off against the Hurricanes on November 21. There were no significant practice reports in either the Miami Herald or the Sun-Sentinel.
The Winston-Salem Journal says Wake Forest QB Riley Skinner looked like the veteran he is in the team's first scrimmage. Skinner spread the ball around as he completed 12 - 16 passess for 162 yards and two touchdowns. Duke closes the season at home against the Demon Deacons on November 28.