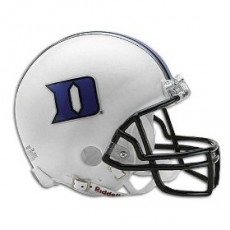 Note – Much of the BDN staff is on the road this weekend, thus slow updates until Sunday.
DEPTH CHART RELEASED
Duke head coach David Cutcliffe has announced the official depth chart for the season-opening game against Richmond … On the offensive and defensive charts, 48 players are listed including eight seniors, 17 juniors, 10 sophomores, five redshirt freshmen and eight true freshmen … Of the eight true freshman finding themselves on the depth chart, six are defensive players.
IMPRESSIVE RUN FOR OGHOBAASE
Redshirt senior Vince Oghobaase, a preseason All-ACC selction by the league's media contingent, has started all 36 games over the past three seasons … That streak ranks as the seventh-longest active run in the nation, trailing only Ciron Black of LSU (40), Trevard Lindley of Kentucky (39), Rafael Priest of TCU (39), Nick Sanders of TCU (39), Dexter Davis of Arizona State (38), Sam Young of Notre Dame (38) and Will Barker of Virginia (37).
HAPRER BACK TO DT
Redshirt junior Brandon Harper has returned to the defensive side of the football following a brief stint at offensive guard … Harper, who spent his first three years in Durham on the defensive line, switched to the offensive side of the ball this past spring, but finds himself back on offense mainly due to the lack of depth on Duke's defensive interior … "I'm putting him back at defensive tackle because of obvious reasons with our depth at that position, and with Kinney Rucker's injury it just felt like we needed to beef ourselves up a bit there," head coach David Cutcliffe noted.  "It gives us some pretty good size in there with (Vince) Oghobaase, (Charlie) Hatcher, (John) Drew and Harper working as the top four." … At Duke, Harper has played in 15 career games including 178 total snaps.
RUCKER PROGRESSING
Out of action since undergoing foot surgery in June, redshirt senior Kinney Rucker is making progress in his return to the field … "I'm really pleased with his progress," head coach David Cutclife commented.  "It proves what I already know, that our training room and our rehab specialist, Kerry Mullinex, have been phenomenal with him and I think he's much further than everybody anticipated he would be." … A native of Durham, N.C., Rucker has seen action in all 24 games with four starting assignments over the past two seasons … In 2007, he posted 28 tackles with six tackles for loss and four quarterback sacks and last year registered 21 tackles and 1.5 tackles for loss.
COMPETITION IN THE KICKING GAME
Duke's initial depth chart identifies strong competition for the kicking chores between juniors Nick Maggio and Will Snyderwine … Maggio handled the duties last season, making 11-of-14 field goals and all 28 of his PAT attempts to lead the Blue Devils in scoring with 61 points, but suffered a facial injury late in the summer that required surgery and missed practice time … "He just got hit square in the face by a softball off a bat at close range and it shattered his jaw, so he had to have surgery," said head coach David Cutcliffe.  "Typical Nick was just concerned about his kicking and not concerned about his looks.  He was so distressed over it but he's done remarkably well.  He's a tough kid." … A walk-on member of the squad, Snyderwine is in his third season with the Duke program
SNYDERWINE IMPRESSES CUTCLIFFE
At Thursday's practice, head coach David Cutcliffe issued a challenge to kicker Will Snyderwine, who responsed in fine fashion … "I said I was going to do something pretty mean to the whole team whether he made a kick or not, and I didn't give him a choice," said Cutcliffe.  "I said, 'this is it and I'm going to tell them why their doing it if you miss this kick', and he split the uprights.  Either he's scared of his teammates or he's got poise.  I don't know which; maybe a little bit of both."