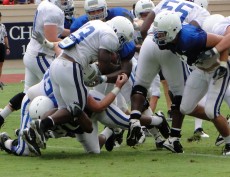 DURHAM, N.C. -- Quarterbacks Thaddeus Lewis, Sean Renfree and Sean Schroeder combined to complete 25-of-39 passes for 240 yards to highlight Duke's 65-snap scrimmage on Saturday afternoon at Wallace Wade Stadium.
"There were some nice plays made offensively and there were some big hits and some nice plays made defensively," Duke head coach David Cutcliffe said following the scrimmage.  "It is going to be a great tape for us to study.  One area in particular that I'm interested in right now is where we are with our kicking game.  I was pleased with Thad (Lewis).  He's been hurt but looked somewhat full speed today and I really thought he did a nice job making plays."
Renfree threw for a team-high 93 yards by hitting on 11-of-18 throws while Lewis was seven-of-12 for 86 yards.  Schroeder was seven-of-nine through the air for 61 yards with one touchdown and one interception.  Schroeder's touchdown pass covered 10 yards and went to sophomore wide receiver Preston Scott.  Freshman running back Desmond Scott led all receivers with six catches for 39 yards while rookie wideout Conner Vernon had three grabs for 42 yards.
"I thought our passing  game, to the eye, was more crisp than what it was with the ones and the twos," Cutcliffe stated.
The Blue Devils had 12 completions cover 10 or more yards on the day.
On the ground, redshirt sophomore running back Cameron Jones picked up a scrimmage-best 49 yards on just three attempts while sophomore running back Jay Hollingsworth rushed four times for 28 yards including a one-yard scoring run.  Redshirt freshman Patrick Kurunwune contributed 32 yards on 10 carries while Desmond Scott added four carries for 25 yards.
"Desmond was busy, and was good," Cutcliffe said.  "He was more consistent than he's been and looked more comfortable with his assignments.  It was a good growth day for him."
Defensively, sophomore safety Matt Daniels caused and recovered one fumble while redshirt sophomore cornerback Colin Jones registered one interception.  Freshman defensive end Brandon Putnam chipped in one quarterback sack and one pass breakup.
Junior kicker Will Snyderwine booted a 27-yard field goal and successfully converted his lone PAT attempt.
Duke opens the 2009 season at home against Richmond on September 5.  Kickoff at Wallace Wade Stadium is set for 7 p.m.  Season and single-game tickets may be purchased online at GoDuke.com or by calling the Duke Athletic Ticket Office at 1-877-375-DUKE.
STATISTICAL LEADERS
Passing: Sean Renfree 11-18, 93 yards; Thaddeus Lewis 7-12, 86 yards; Sean Schroder 7-9, 61 yards, 1 TD, 1 INT
Rushing: Cameron Jones 3-49; Patrick Kurunwune 10-32; Jay Hollingsworth 4-28
Receiving: Desmond Scott 6-39; Conner Vernon 3-42; Donovan Varner 2-32; Brandon King 2-32
SCORING SUMMARY
Jay Hollingsworth 1 run (Will Snyderwine kick)
Preston Scott 10 pass from Sean Schroeder (Sean Schroeder pass failed)