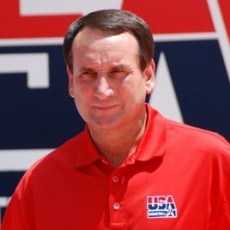 When you talk of the Duke beat in journalism, the first name that comes to mind is Al Featherston.  BDN is happy to announce that Al is the newest member of our growing list of contributors.  In his first effort, "Feather," as he is known to his friends, goes into great detail about Coach K and the perceptions surrounding his acceptance as the head coach of Team USA.
DURHAM, N.C. - The news was leaked earlier, but on July 21 at a press conference in Las Vegas it became official – Duke basketball coach Mike Krzyzewski will remain the head coach of the U.S. National basketball team through the 2012 London Olympic Games.
Amazingly, many Duke fans are unhappy with that news. In a poll on a popular Duke fan site, 150 of 244 participants (61.5 percent) voted that Coach K's Olympic involvement was a negative for the Blue Devil program. While that may not be a representative sample of the Duke fan base, it certainly reflects the concerns voiced on numerous fan sites and on talk radio that Coach K's involvement with the National Team somehow detracts from his effectiveness at Duke.
Krzyzewski refuted that view last month at his summer press conference. He vigorously argued that his involvement with the 2008 Olympic team did nothing to hurt his Duke program.
"There was not one negative thing for me, my program, my family," Krzyzewski said. "That was a great, great experience. The fact that we won made it even better. It helped our program. It helped me. It helped our school. It's just a good thing. I can't think of one down thing. When you are listing the positives and the negatives, there is no negative for me."
Krzyzewski also addressed the issue at his Las Vegas press conference.
"The main thing is that this has made me a better coach," he said. "It did not fatigue me. And it did not shorten the shelf life of how long I will coach at Duke. In fact, it's probably lengthened it."
He repeated that his Olympic experience has so far been a positive, both for him and his program.
"You get better [as a coach]," Krzyzewski said. "You learn more. And the time that you spend is time [because of NCAA rules] where you can't work with your own kids anyway. And most of the time it's not during recruiting time."
So whom do you believe? Coach K on one side ... or a bunch of anonymous Internet experts on the other?
Nationally, there's no real debate. Krzyzewski's successful association with the United States Olympic team has only increased his already high prestige in the sports world.
When the Duke coach was first named the head the National Team in September of 2005, there were plenty of doubters and critics. A college coach directing a bunch of NBA prima donnas? After all, veteran NBA coaches George Karl and Larry Brown had just failed spectacularly with a collection of NBA superstars in the 2002 World Championships and the 2004 Olympic games. Quite a few so-called experts questioned the wisdom of appointing Krzyzewski to direct the massive egos he would need to take USA Basketball back to the top of the world rankings.
But after Coach K's three-year effort to recapture the Olympic Gold Medal ended with a impressive triumph in Beijing last summer, the doubters were silenced ... or in most cases, converted. Superstars such as Kobe Bryant, LeBron James, Dwayne Wade and Josh Howard all submerged their individual egos for the team goal. They honored Coach K for his leadership in the moments after the title game when every member of the team hung his gold medal around the coaches' neck.
"You know what, I got paid off every day that I was working with our national team," Krzyzewski said. "It was one of those moments. You're not thinking about past, future ... it was one of those special moments."
Now it looks like Coach K will bid for another special moment. If he's named the 2012 Olympic coach, as expected, there will be few skeptics this time. He's proved that he can manage a team of pro all-stars in pursuit of the ultimate goal. He has a chance to become just the second man to guide the U.S. men's basketball team to two gold medals. Oklahoma State legend Hank Iba led the United States to gold medals in the 1964 Tokyo Olympic Games and the 1968 Mexico City Games.
Of course, Iba's legacy was somewhat tarnished when he missed a third gold medal bid when the United States lost a controversial gold medal game to the Soviet Union in Munich in 1972.
The outcome Team USA's bid to repeat in the 2012 London Games will have an impact on Krzyzewski's legacy, another gold medal effort building his resume as one of the greatest coaches of all times.
***
But is he building his legacy at the expense of his Duke program?
That's the question that haunts too many Blue Devil fans. The fear stems from the perceived "slump" that Duke had suffered in the last three seasons when Coach K was spending his summers with the National Team.
Before we delve into this issue, let's define our parameters. Coach K was first named to coach the National Team in the fall of 2005. He spent more than a month of the summer of 2006 at the World Championships in Japan. He spent a little less than a month of the summer of 2007 guiding the National Team in the Tournament of Americas (an Olympic qualifying event) in Las Vegas. In 2008, he spent a week in June and almost six weeks in late July and August with the National Team preparing for -- and winning -- the Olympic Gold medal in Beijing. There have been a few other scattered meetings and affairs, but no more than his duties with the V Foundation or the National Association of Basketball Writers require.
All that means that any impact on the program would have to have occurred after the 2006 season. That was the season when Duke finished 32-4, No. 1 in the final AP poll and won the ACC championship (both regular season and tournament).
On the surface, there does appear to have been some drop-off in the three seasons since. Duke, which won 31-27-32 games in the three seasons before K's first international summer, has won 22-28-30 games in the three seasons following his National Team involvement.
That's 90-16 in the three seasons between 2004-06; 80-24 between 2007-09. Duke won two ACC titles and went 8-3 in NCAA between 2004-06. Duke has won one ACC title and has gone just 3-3 in NCAA play since.
But is that decline due to Krzyzewski's involvement in the Olympics?
One simple observation indicates that it's not: If K's summer work was hurting the program, the damage should have gotten progressively worse. Instead, the team got progressively BETTER the longer K coached the Olympians.
The low point in the program (at least since 1996) occurred in 2007, when Duke finished 22-11, unranked in the final poll and was eliminated in the first round of both the ACC and NCAA tournaments.
A year later, Duke improved to 28-6. The '08 Blue Devils finished No. 9 in the final AP poll and won one game in both the ACC and NCAA Tournaments.
And last season, Duke finished 30-7 and No. 6 in the final AP poll. The Blue Devils won three games in Atlanta in March to claim their 17th ACC championship and won twice in the NCAA Tournament to advance to the Sweet 16 for the 10th time in 12 years (more than any other program over than span).
If K's focus on the National Team was such a problem, why did Duke keep getting better in those seasons? Is there another reasonable explanation for the dropoff in 2007 – which in itself largely accounts for the program's recent "slump"?
[Note: Just to be clear, Duke's average of 29.0 wins in 2008 and 2009 is very close to the 29.4 win average in the five years previous to 2007].
There are good reasons that the 2006-07 Duke team struggled – reasons that have nothing to do with the August weeks that Coach K spent in Japan that summer chasing the World Championship.
It starts with the graduation of four seniors off the successful 2006 team. That includes national player of the year J.J. Redick, consensus first-team All-American Shelden Williams, solid two-year starter Sean Dockery and valuable reserve Lee Melchionni.
Obviously, the next year's team was going to take a hit. Making matters worse, sophomore point guard Greg Paulus – one of the team's two returning starters – broke his foot on the second day of practice and was hobbled all season (finally undergoing a second bout of corrective surgery after the season). His injury was very reminiscent of one suffered in preseason 1994-95 by sophomore guard Chris Collins – an injury that played a large role in the collapse of that Duke team.
The 2006-07 Blue Devils didn't collapse, but they did struggle to "just" 22 wins and an 8-8 ACC finish. They lost three ACC games in overtime and another by a single point.
There were other injuries and illnesses (talented freshman Gerald Henderson was never 100 percent all season) – problems that stronger teams might have overcome, but were too much for the young, razor-thin Blue Devils to handle in 2006-07.
The biggest problem for Coach K's team that year was its lack of experience and leadership. There was not a single senior on the 2006-07 roster ... and just one junior. Every other player in the rotation was a freshman or a sophomore.
The real reason for Duke's struggles in 2006-07 were a series of recruiting misses and player losses that occurred BEFORE Krzyzewski was named Olympic coach. Just examine the classes that made up the 2006-07 team:
-- In 2003 (what should have been the '07 senior class), Coach K landed commitments from Minnesota big man Kris Humphries and Nigerian-born, London-raised swing man Luol Deng.
Humphries never made it to campus, cut loose by Krzyzewski after (reportedly) the Duke coach and the prospect's father disagreed about Humphries' role on the team. No matter in the long run – Humphries was clearly a one-and-done player, who wouldn't have been around in 2006-07 even if he had enrolled.
Deng, on the other hand, proved to be a spectacular freshman in 2004. He was the regional MVP as Duke reached the Final Four. His jump to the NBA that spring came as a surprise and a disappointment to the Duke staff, which had hoped to retain his services for at least one more season.
In the end, Krzyzewski got one very good season from Deng out of the class of 2003, but his rapid departure left a void that would haunt the Blue Devils for the next three seasons.
-- In 2004 (what should have been the '07 junior class), Coach signed two top prospects – Illinois guard Shaun Livingston was rated the No. 2 prospect in the class (behind NBA-bound Dwight Howard) and California guard DeMarcus Nelson ranked No. 18. Coach K also brought in Connecticut swingman David McClure, ranked No. 71 nationally by RSCI (which averages the rankings of the major recruiting services).
Livingston became the first (and still only) Duke recruit to jump straight to the NBA. McClure arrived on campus with two crippled knees. He was able to play just 184 minutes as a freshman, then had to sit out the 2006 season after undergoing major reconstructive surgery. He returned in 2007 and proved to be a significant contributor as a defensive stopper in his final three seasons.
Nelson's career was also hampered by injuries. He suffered major setbacks as a freshman and sophomore, finally emerging as an outstanding player in his final two years (first-team All-ACC in 2008).
-- After two small recruiting classes – both decimated by injuries and early NBA departures – Coach K brought in a big class in 2005. It included Indiana big man Josh McRoberts, New York point guard Greg Paulus, English native center Eric Boateng; California forward Jamal Boykin and Lithuanian guard Martynas Pocius.
On paper it was a great class – No. 2 in the nation, according to the RSCI. McRoberts was the consensus No. 1 player in the class, ranking ahead of No. 2 Monta Ellis (straight to the NBA), No. 3 Martell Webster (straight to the NBA) and No. 4 Tyler Hansbrough (UNC). Paulus was the No. 13 prospect (and No. 2 college-bound point guard, behind only Kansas recruit Mario Chambers), Boateng ranked No. 39, Pocius was No. 53 and Boykin, California's Mr. Basketball, was No. 60.
In hindsight, we can see that the failure of this class to meet (or even approach) expectations had a lot to do with Duke's struggles in 2006-07. McRoberts became a good player – a starter in 2006 and a second-team All-ACC pick in 2007, but he left after his sophomore season and never fulfilled his potential of the nation's top-rated prospect. Paulus also became a very solid college player – he led the ACC in assists as a freshman starter and was a third-team All-ACC performer as a junior. But he too failed to match the high expectations that he had brought with him.
Pocius never found a role at Duke and became a spot player. That's still better than Boateng and Boykin, who transferred out before ever being significant players.
That's three classes in a row that flamed out to some degree. While it's easy to blame Krzyzewski for under-recruiting in 2003 and 2004, remember that he had a fairly full roster at that time and he knew that bringing in too many players – especially less highly rated guys who would have sat for 2-3 years – leads to unhappiness and transfers. And while it's also possible to blame Coach K for overrating the talent of his 2005 recruits, it's only fair to note that almost everybody else in the recruiting universe overrated them too.
But wherever the blame lies, the fact is that the slump in 2006-07 had nothing to do with Coach K's Olympic involvement. It was shaped by recruiting problems that cropped up long before Krzyzewski was named to head the National Team.
It's interesting to note that the 2006 recruiting class – the first three players signed two months after Coach K was first named Olympic coach, while the fourth signed the next spring – turned out to be Duke's most successful recruiting class since the Super Six of 2002 (Redick, Williams and company).
Those four players were freshmen on the 2006-07 team and have been the foundation of Duke's revival the last two seasons. Gerald Henderson overcame a tough freshman season to become a first-team All-ACC selection and an NBA lottery pick after his junior year. Jon Scheyer, the 2009 ACC Tournament MVP, has been even more consistent over his first three seasons and will be one of the top players in the conference heading into next season. Lance Thomas is a two-year starter and a solid contributor, while guard Brian Zoubek has been a useful reserve.
Although that quartet is technically Coach K's first post-Olympic class, in reality, Henderson, Scheyer and Zoubek all committed before the Duke coach was tied down with any National Team duties. Even Thomas committed and signed before Krzyzewski left Durham to pursue the World Championship in the summer of 2006.
In view of the fact that many of the fans that are unhappy with Coach K's Olympic involvement believe that his summer commitment to the National Team detracts from his recruiting efforts for Duke, it's worth examining how well he has actually recruited since his first international summer (2006).
-- It starts with 2007, when Coach K signed three players – Oregon forward Kyle Singler, Oak Hill (Va.) guard Nolan Smith and California sharpshooter Taylor King.
On paper, the class was ranked No. 3 in the nation. All three players were McDonald's All-Americans, ranking No. 5 (Singler), No. 19 (Smith) and No. 24 (King) in the RSCI. As it turned out, Singler has become a collegiate star, who will be a contender for ACC and national player of the year honors in his junior season. Smith has had his ups and downs, but he finished last year strong and figures to be a significant player for the Blue Devils in his junior season..
The transfer of King after one season demonstrates the problem with bringing in top-rated prospects who are sometimes unwilling to play a limited role early in their career.
-- In 2008, Coach K signed three more players: Memphis guard Elliot Williams, Polish forward Olek Czyz and late addition Miles Plumlee, an Indiana product who played prep basketball in North Carolina.
That class was rated No. 11 in the nation, although the departure of Williams (No. 15 in the RSCI) after one season will hurt the long-term impact of the class. Plumlee (No. 81) certainly has potential, while Czyz (No. 66) has yet to find a role.
-- In 2009, Coach K signed just two players, but both were top prospects: Raleigh prep school product Ryan Kelly (No. 14) and Miles' younger brother, Mason Plumlee (No. 18).
The class ranks No. 8 nationally, not counting Liberty transfer Seth Curry. The younger brother of Davidson All-American Stephen Curry was the nation's leading freshman scorer last year.
And that ranking doesn't include guard Andre Dawkins, who was projected as a 2010 recruit when he committed last year, but has changed his plans and may enroll this fall. Dawkins is a consensus Top 25 prospect from the 2010 class.
That's six McDonald's All-Americans and a total of eight top 100 rated prospects in the three years when Coach K has been engaged in Olympic duties during the summer. His three classes have ranked No. 3, No. 11 and No. 8 in the nation ... not bad. And Dawkins is just the tip of the 2010 iceberg – forward Josh Hairston and guard Tyler Thornton are already committed and Duke appears to be in great shape for swing man Harrison Barnes, the No. 1 player in the class and Kyrie Irving, one of the nations top guards.
So why do so many anguished fans believe that Coach K's recruiting has slipped during his Olympic tenure?
The answer is that they tend to focus more on his recruiting misses in the last three years than his successes. That's partly the result of the recent explosion of Internet wall-to-wall coverage of the recruiting scene – and the selective memory to forget that Coach K (like all coaches) has always endured his share of recruiting misses.
Still, there are those who act like the failure to land such players as Patrick Patterson, Greg Monroe, Kenny Boynton and John Wall is some kind of aberration, which must be due to Coach K's Olympic commitment.
So let's examine those four celebrated losses in detail and see what role the Olympics played.
-- Yes, it's unfortunate that Duke failed to land recruiting target Patrick Patterson in the spring of 2007. The tall, powerful forward from West Virginia would have looked great in Duke Blue. It's reasonable to speculate that if he had signed with the Blue Devils and started up front in 2008 and 2009, Coach K would have added another Final Four team and maybe another national championship to his resume.
But it's not reasonable to suggest that K's Olympic involvement had anything to do with losing Patterson to Kentucky. Duke only got into the hunt for Patterson late in the fall of 2006, after Coach K's return from the World Championships in Japan. Patterson made his decision in late March of 2007, long before K joined the National Team in August.
The Olympics had absolutely no impact on Coach K's pursuit of Patterson. In truth, Patterson was always a Kentucky lean who only became a strong possibility for Duke after Kentucky fired Tubby Smith.
-- A year later, Duke targeted Louisiana big man Greg Monroe. Unlike Patterson, he was an early target for the Blue Devils and seemed to be a Duke-type guy – intelligent, thoughtful and a versatile player ... a big man with superb passing skills. Duke was in the hunt before and after Coach K's August trip to Las Vegas for the Tournament of the Americas, but on Oct. 13, 2007, before making an official visit to Duke, Monroe committed to the Hoyas. He also cancelled scheduled trips to Texas and UConn.
Now, was K's absence in August so negative that there was nothing the Duke staff could do to repair the damage in the six weeks between their return and Monroe's commitment? K and/or his staff were there for the July AAU events when prospects are showcased. K's Olympic duties in 2007 were during a recruiting dead period, when it was illegal to even watch prospects first-hand.
Isn't it most likely that Monroe went to Georgetown for the reason that he said he did, that he formed a bond with Hoyas coach John Thompson III? Duke has won numerous recruiting battles over the years because the prospect forms a similar bond with Coach K. Danny Ferry, who grew up a UNC fan, came to Duke because he was most comfortable with Coach K. Johnny Dawkins, Grant Hill and Shane Battier all cited their immediate connection to Coach K as primary reasons for picking Duke.
Grant Hill, like Monroe, made a surprise early commitment before taking most of his scheduled official visits. His instant chemistry with Krzyzewski made him sure of his choice.
Is it so strange that Duke would lose a prospect for the same chemistry with another coach?
-- Boynton is a combo guard from Florida that Coach K sometimes compared to ex-Duke star Jason Williams. He is a good student and always had the Blue Devils among his recruiting leaders.
But Boynton is a Florida kid who became the No. 1 target of Florida's Billy Donovan, an accomplished recruiter in his own right. Indeed, Donovan beat Krzyzewski straight up in 2001 for Missouri big man David Lee – no Olympics involved. When Boynton committed to Florida, he cited the Gators' obvious interest as his primary reason for picking the Gators over Duke. He said that he was impressed that either Donovan or one of his assistants were in the stands for every one of his summer league games.
On the surface, that seems to be possible evidence that Olympic duties cost Krzyzewski. But was that really the case?
Boynton told the Gainesville (Fla.) Sun that he was talking about his July AAU games. Krzyzewski and his staff were involved in an Olympic camp in late June, but then broke for recruiting duties in July. The Olympic team re-assembled on July 20th, just as the AAU circuit was ending.
Essentially, Krzyzewski missed 12 days of the legal evaluation period (which ended July 31st). At that point, nobody needed to evaluate a player of Boynton's stature, but a coach could demonstrate interest by being in the stands during his game.
That's what Donovan did with Boynton. And while Krzyzewski and his staff didn't match that in late July, they apparently weren't as omnipresent in early and middle July either.
In the end, Boynton elected to play at his home-state school. Like Monroe, he committed before even making his official visit to Duke. He said at the time of the signing that he thought Florida offered him the best chance to make the Final Four (which suggests he was seriously deluded).
If there's a recruit Duke lost due to the Olympics – and the evidence in this case is very, very slim – then it's Boynton. But the truth is that Coach K recruited Kenny Boynton with the same fervor that he pursued Nolan Smith, Jon Scheyer and Elliot Williams. The Olympics didn't impact his recruiting approach to the Florida guard.
-- John Wall became a major Duke target after Boynton dropped off the radar by picking Florida. If Duke had landed Boynton, the staff never would have pursued Raleigh Word of God star.
There are a lot of reasons why Wall picked Kentucky over Duke, but it's hard to see why the Olympic involvement is one of them. Coach K only focused his efforts on Wall in the fall of 2008, after his return from Beijing. There was no Olympic distraction during Duke's pursuit of Wall in the winter and spring of 2009. He made his college choice in early May, before the rumors surfaced that Coach K might re-up as Olympic coach.
Now, while the four recruiting targets cited above represent the most hotly debated recruiting "misses" during Coach K's recruiting involvement, there were of course several others. Duke pursued big man Eric Murphy early, but he opted for Florida. The Blue Devils were interested in power forward Greg Echenique, a Venezuelan who was originally planned to graduate from high school in 2009, but ran into eligibility issues and had to come out after the 2008 season. It's unlikely that Duke could have recruited him under those circumstances. He ended up playing for Rutgers last season.
Duke ended up with Kelly and Plumlee instead, who were each rated higher than Murphy (a similar style inside/outside big man) and Echenique (more of a low-post power player).
But that's the way recruiting all ways goes – and has always gone, long before K signed on to coach the Olympic team.
Go back to Krzyzewski's first year at Duke, when his initial recruiting effort resulted in a strong of second-place finishes for guys like Chris Mullins, Bill Wennington, Uwe Blab and Jimmy Miller. A year later, his first great recruiting class was strengthened when celebrated prep All-American Curtis Hunter picked UNC over Duke, opening up a spot for unknown David Henderson (who turned into a much better college player than Hunter).
In the late 1980s, Krzyzewski struggled to find a point guard to replace Tommy Amaker. In 1987, he lost Florida prep star Chris Corchiani to N.C. State. A year later, he lost point guard Derrick Martin to UCLA. Everybody was getting frustrated by his painful misses, but the bad recruiting fortune in 1987 and 1988 opened the door for Krzyzewski to land Bobby Hurley in 1989.
In the next decade, Duke lost Eric Montross and Antwan Jamison to UNC, Adonal Foyle to Colgate, Bryant Stith to Virginia, Andrae Patterson to Indiana, Chris Webber to Michigan and Jerry Gee and Richard Keane to Illinois. All were regarded as key targets. In fact, in the fall of 1995 – in the wake of the team's collapse the previous season – Coach K hosted three "must-get" targets on the same weekend. But he lost Shaheen Holloway to Seton Hall, Jason Collier to Indiana and Willie Dersch to Virginia.
A year after going 0-for-3 on his top targets, he had Duke back in the top 10.
After the program revived, he still lost Jared Jeffries to Indiana, Lee to Florida, Andrew Gooden and Alexander Kaun to Kansas and Jon Brockman to Washington.
None of that had anything to do with the Olympics or K slowing down or changes in his staff or any other so-called explanation for Duke's recent recruiting "decline."
It's just the way recruiting goes – even the top programs miss on as many top targets as they hit.
Just look eight miles down the road, where UNC's Roy Williams has enjoyed as much recruiting success as anybody over the last few years. But as good as his 2006 class was (Ty Lawson, Wayne Ellington and company), he lost Gerald Henderson to Duke. He flamed out in 2007, losing Kevin Love to UCLA and ending up with a class that consisted of Will Graves. The next spring, he flirted with disaster as he lost a number of top big man prospects, including Delvon Roe (Michigan State) and Samardi Samuels (Louisville), before he finally salvaged the class with Ed Davis. And while he has another top-rated class coming in this season, it doesn't include Ryan Kelly, a prospect he lost to K.
Williams has no Olympic duties to distract him. What his excuse for missing so many top prospects?
Now, some Krzyzewski critics are going to suggest that he recruits too narrowly for this modern one-and-done era. And, they argue, that can leave his team shorthanded at times. That might be a valid point to debate (the counter-argument is that spreading himself too thinly leads to even more misses; plus the evidence that bringing in less-talented players to insure against defections or recruiting misses leads to transfers).
Either way, it's a separate argument that has nothing to do with the Olympic debate.
***
While it's hard to find evidence that K's Olympic commitment has hurt Duke's recruiting, there's another issue of some concern – burnout.
Krzyzewski turned 62 years old midway through the 2009 season. He's had major back and hip problems in the last two decades. The former became so severe that he was forced to take a leave of absence midway through the 1994-95 season.
That problem came almost three years after the most intense period in Krzyzewski's career. Coach K has admitted that he got a little frazzled with job demands during the back-to-back national championship seasons of 1991-92. He includes his involvement with the 1992 U.S. Olympic Team – he was an assistant coach for the original "Dream Team" – as contributing to his overload during that period.
But his departure in January of 1995 was precipitated by physical problems, not job demands. He underwent major back surgery in late October of 1994, just after the start of preseason practice. Told to take six weeks off for rehab, Krzyzewski was back at practice 10 days after the operation. The unrelenting back pain he suffered through November and December led to his physical breakdown just after New Year's.
Krzyzewski was just short of his 48th birthday when he took his leave of absence in 1995. He's 14 years older today, although at the moment he appears to be healthy. He restructured his staff and the basketball office after his 1995 crisis to take some of the load off his shoulders and to spread it more among his assistants.
Obviously, adding another important job – coaching the National Team – is going to increase demands on Krzyzewski, no matter how much he delegates.
Do those demands create a dangerous situation?
All we have to go by is Krzyzewski's reaction to his first stint as Olympic coach. After completing his three-year commitment in August of 2008, he returned from Beijing with a new energy and enthusiasm that was evident to all who knew him or followed his program closely (including this writer).
"It has been incredibly energizing for him," former player and ESPN commentator Jay Bilas told the Raleigh News & Observer.
Bilas added another observation: "He has also learned more from the coaches on his (USA) staff and seen a different way of doing things. It has expanded his basketball horizons."
Indeed, much was made in 2008 of the refinements in his fastbreak offense that Coach K learned from Olympic assistant coach Mike D'Antoni. Last year, Krzyzewski talked about the zone defense that he had learned from Syracuse coach (and Olympic assistant) Jim Boeheim.
"I think what I've learned from coaching some of the best players in the world really translates well to what we are doing at Duke," Krzyzewski told Michael Tomko of goduke.com. "When we can show tapes or tell stories of what guys do to be part of a team, to do dirty work, the extra conditioning and to say we have worked with these guys, that's what they do. So when we ask you guys to do these things it is something we have already seen work at the highest level. I think it helps us immensely."
Tactical innovations aside, there's no telling what impact K's increased visibility will actually have on his recruiting efforts. Remember the cries of outrage in 2006 when his American Express commercial was all over the airwaves, creating (in the words of jealous rivals) "an unfair recruiting advantage"?
So what kind of advantage will it be to have upcoming recruits hear Kobe Bryant say that he regrets not being able to play for Coach K in college or to read how LeBron James credits Krzyzewski for elevating his game? How much impact will it have when Harrison Barnes or Brad Beal see Krzyzewski coaching the best NBA players in the World Championships next summer or in the London Olympics in 2012?
"I think being our National coach and being on a global stage first of all just helps Duke in saying that our Duke coach is doing that," Krzyzewski told Tomko. "It's a visible stage; it's not a hidden stage."
There clearly is a positive aspect of Krzyzewski's Olympic involvement for the Duke program. And despite the fears of so many Blue Devil fans, the positive aspects almost certainly outweigh any potential negatives.