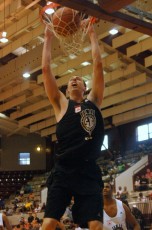 Two Duke freshman took to the court at NC Central University to participate in the N.C. Pro Am on Tuesday evening.  Ryan Kelly and Mason Plumlee were very efficient on the offensive end going for a combined 10 of 13 from the floor.
Mason Plumlee's Team Duhon came into the game undefeated, but were without the service of Jon Scheyer, a key contributor.  After getting out to a 12 point lead, they wilted down the stretch losing their first game 68-64 to Team Navy.  In the end it was guard play which brought about their first loss.
A timely Plumlee steal and assist brought his team within one point, but a free throw and an uncontested lay in on the other end sealed their fate.  But the skill set which stood out tonight for Plumlee was his passing ability.
Plumlee had 3 assists in the first quarter alone on his way to 5 total for the game.  He continued to show off his versatility and made some strong finishes down low.  When the dust cleared, Plumlee shot an effective 5  of 7 from the field for 13 points.  He was 0-2 from the free throw line but had a game high 8 rebounds to go with 4 blocked shots and 4 turnovers.
His teammate, Ryan Kelly helped his team to a blowout win.  Kelly, who came into the game off a 26 point performance last Thursday missed a single shot going 5 of 6 from the field.  Kelly also drained all three of his free throws to end the evening with 14 points, 2 rebounds and 2 assists.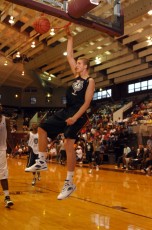 Kelly deferred to C.J. Leslie (20 points) on the scoring end, but probably had his best performances while Roy Williams came to see Leslie the preceding week.  He showed good spacing and unlike many others in the event, set picks for his teammates.  Kellys team will now go into Friday's playoffs which begin on Friday and end on Sunday of this week.  Team Duhon has a Thursday evening game before the end of their regular play.
Duke walk on Casey Peters played in the following game and had 4 points, all from the line in the first quarter of his game.  A conflicting schedule did not allow us to see any more action beyond that time.