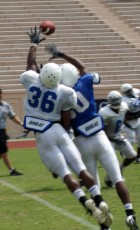 Do you feel more comfortable going into your second season under Cutcliffe?
I feel a lot more comfortable.  I'm better prepared and stronger than I was and I run to the ball better
Your brother Lex  joins the team this season.  What's it like to have him practicing and playing with you?
It's not a major difference because I am a sophomore and on another side of campus.  I was use to just calling him at home, but now that he's here.  I can just go over and talk to him.
Do you still remind him that's he's a freshman?
Yeah, yeah.  I tell him that all the time. [smiling]
Whats it been like to up against freshman wideouts Conner Vernon and Tyree Watkins?
They're not guys that you can just go up to the line and beat down.  They are going to give you some movement at the line and are pretty good athletes.
Are you watching film and prepping for Richmond?
We're starting to work a little bit on their schemes.  We'll turn our attention to them completely very soon.