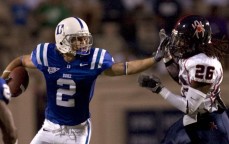 Let's start off this Monday's musings talking about Duke Football's opening game this past Saturday.  There is no doubt that disappointment enveloped both coaches, fans and players after a 24-16 loss to Richmond.  That said, it's time for a bit of a reality check here.
Duke is rebuilding it's team with a whopping 35 freshman on the roster, many of those kids playing significant minutes.  One has to love the enthusiasm Coach Cutcliffe has brought to the program and that he is willing to aim high mentioning bowls, but grounded fans can see that Duke doesn't have the experience needed to achieve such a lofty goal unless the ball takes several perfect bounces.
The second Cutcliffe signed some armchair fans started their doodling with the roster and recruits on paper.  I was one of those and it was evident to me a good while ago that 2009 would be a bridge year for the program.  While there are a few seniors at key positions, for every solid starter like Thaddeus Lewis or Vinnie Rey there was an inexperienced backup in the wings.
Duke is now in the process of building depth and patience is a must in a season like this.  The focus of fans should be to watch some talented kids grow in that they'll return for the next couple of years.
This doesn't mean it's time to throw in the towel on a young season for there are eleven contests left and Duke does have the talent to compete when their players are on the same page.  The Duke players were not all mentally prepared to play against Richmond.
It was very clear to me that last seasons Duke team was much more active and into the game making the plays it needed to defeat James Madison.  On Saturday, the 2009 version of the Devils didn't seem to play with the same urgency.
The bottom line is that the 2008 team made their own breaks and refused to lose.  The defense played okay on Saturday, but no one was there to make the kind of hit one must to separate a player from the ball.  There were no strips or interceptions and pressure was minimal on Eric Ward.
The offense sputtered about, moving the ball but bogged down for a lot of long third downs.  Add to that a non existent running game and the Dukies were forced to be a one dimensional team.
Much of the blame can be issued to offensive line woes and Duke must improve on their play quickly to compete against the ACC or even the likes of Army.
Speaking of Army, Duke must now travel to West Point where a better than expected team awaits them.  Army, a four point underdog, had little trouble with Eastern Michigan this  past weekend.
I fully expect a better Duke team to show up that day and I think the coaches will make sure their team competes at a higher level.  One hates to call this a must win, but in a sense it is only because it is one of the few games Duke will be favored in.
One must realize that just a few made plays separated Duke from victory against Richmond but they cannot afford not to go jugular on the Cadets early on or they'll find themselves in a similar situation.
I must also be pointed out that Richmond is a good football team and that they returned almost intact from an FCS national title.  Yes, I know FCS schools have less scholarships and such, but this particular Spider team had guys who had been there all over the field.
It's easy to get down after this past weekend, but Duke fans need to realize that down the road, people may look back and realize that this may have been Cutcliffes weakest team.  Even if Duke sputters a bit this season, there is no reason for panic for the team is moving in the right direction.
Keep in mind that Cutcliffe has yet to get his players in and that the process takes four years to see the real results.  With a team short on seniors and trying to replace the likes of Michael Tauliliili and Eron Riley, Saturdays loss is not that surprising, especially considering it was the first game of the season.
There's a reason why coaches say teams improve the most from week one to week two and there is no reason not to expect an improved football team come noon Saturday.
_____________________________________________________________________________________________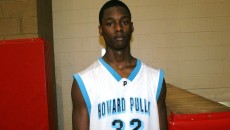 Next we address the weekend visit where Harrison Barnes took in the UNC Alumni and football game.  Barnes of course is the nations top recruit and has been on the Devils radar for a long time now.
It's no surprise that his visit went well and all indications is that he had a good time on many levels.  Fans should not go into meltdown mode from comments on the visit for Barnes isn;t about to say anything bad about the schools on his list.
Barnes has been a young man of his word throughout the process and he will take his remaining visits before making a decision.  So, those of you who ride every wave of comments analyzing what is heard will have a field day in the coming weeks.  However, considering a multitude of comments are yet to come, making so much out of every little thing is fruitless.
We'll have more on Barnes, Smith and other developments on our BDN Premium Message Boards and we will continue to deal in only facts on our board in a effort to keep from going down the road many forums have been.
_______________________________________________________________________________________________
Back to football, let's talk about some of the bright spots.  True freshman Conner Vernon played really well in the opener and should be a go to guy in the future.  Johnny Williams caught his first career TD pass and it shouldn't be his last.  Abraham Kromah showed up well at the LB spot.
Thaddeus Lewis threw for 350 yards and two TD's with no interceptions yet amazingly is being blamed for the problems on some message boards.  Lewis doesn't call the plays nor does he block, folks.  Lewis is on pace to break several Duke passing records as the season progresses.
Finally, Duke will take on Army this Saturday at 12:00 and the game will be televised by CBS College Sports.  BDN thinks Duke will rebound for a victory.