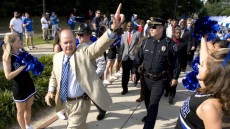 A blocked punt for a touchdown and a clock chewing 12 play 83 yard drive helped Richmond to a 24-16 victory over Duke in the teams season opener.
Richmond was paced by senior quarterback Eric Ward who threw for 143 yards on 12 of 23 passing.  He was assisted by Justin Forde who rushed for 69 yards.  Generally 69 yards doesn't seem like a lot, but compared to Dukes 19 total yards of rushing, it was huge.
The Blue Devils couldn't run the ball on a veteran Spider defense thus utilized a short passing game that was effective.   Senior quarterback Thaddeus Lewis finished the game 34 of 55 for 369 yards and 2 T.D.'s but despite the gaudy numbers, Duke's offense sputtered once they got the ball close to the red zone.
The one time they went over the top, Johnny Williams was wide open for a touchdown, the first of his career.  Williams was one of the bright spots for the Devils hauling in 7 passes for 115 yards.
Check back in for more on the game including word from Coach Cutcliffe and some of the players.  Duke will next face a 1-0 Army team in search of a victory.