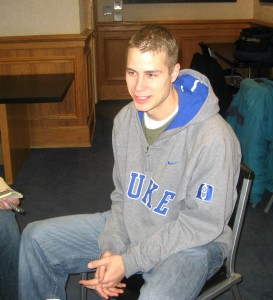 Senior co-captain, and 2009-10 preseason candidate for the John R. Wooden Award All-American Team, Jon Scheyer brings consistency onto the court for the Duke Blue Devils. In discussing Jon's selection as one of this year's team captains, Coach Mike Krzyzewski stated, "Jon has a great approach to the game and is one of the most consistent performers in practice and during games."
Scheyer enters his senior season with 1349 career points, which places him in 32nd place all-time at Duke. He was named the MVP at last year's ACC Tournament when he averaged 21.6 points over three games, while leading Duke to the tournament championship. For the season, Scheyer averaged 14.9 points per game and led Duke in minutes played at 32.8 per contest.
Last season, Coach Krzyzewski handed Scheyer the reigns after an 80-74 loss at Boston College on February 15, 2009 and Scheyer responded by averaging 18.6 points over the next 12 games. Moreover, he distributed 28 assists while committing only 14 turnovers for a solid 2:1 assist to turnover ratio. After the ACC tournament, Kyle Singler talked about Scheyer's performance running the point, "He makes plays for himself and others," Singler said. "That spot for us, when Jon has been there, has been huge for us." Coach Krzyzewski's confidence in Scheyer paid dividends as Duke won ten of those twelve games with the two losses coming against eventual Final Four teams North Carolina and Villanova.
Scheyer is a versatile player but his greatest strength is as a scorer when he attacks defenses. As a career 37.9 percent 3-point shooter, he can punish defenses which rotate late by knocking down the long ball. Off the dribble, Scheyer has a knack for drawing contact and converting at the free throw line. He has scored 414 of his 1349 career points, from the charity stripe, by converting on 85.4 percent of his opportunities. Defenses must respect Scheyer's scoring ability, which facilitates his ability to distribute the basketball to his teammates.
Defensively, Scheyer led Duke in steals last season averaging 1.6 per contest. He had a season high four steals in the game at North Carolina. His defensive rebounding is also strong as Scheyer averaged 2.48 defensive rebounds per game as a junior. He recorded five defensive rebounds three times last season with his career high being ten defensive rebounds against Pittsburgh in December 2007. Defensive rebounds by guards typically result in fast break opportunities.
Over the summer, Scheyer participated in the Greater North Carolina Pro-Am league, sponsored by Jerry Stackhouse, and hosted by North Carolina Central University, by playing several games for Team Duhon. Not surprisingly, throughout the games in which he participated, Scheyer demonstrated his ability to knockdown 3-pointers and distribute the ball to his teammates.
Scheyer also worked to improve his point guard skills by attending the Deron Williams Skills Academy June 23-26 in Dallas. At the skills academy, he had the opportunity to test himself by guarding some of the nation's quickest guards.
What should Duke Fans expect from Jon Scheyer in this upcoming season? For starters, more of the same, Scheyer will be consistent and versatile, as he has been for the past three seasons. As a senior, it is expected that he will step up his leadership presence. Scheyer will handle the ball and initiate Duke's offense as the point guard, a position he expects to share alongside Nolan Smith. With Scheyer being a senior and initiating the offense, he will be an extension of Coach Krzyzewski on the court.
Duke fans can expect for Jon Scheyer to consistently turn in All-ACC Team quality performances throughout his senior season in Durham.