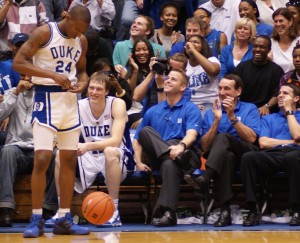 DURHAM, N.C. Duke's first annual Countdown to Craziness was a rousing success as fans packed Cameron Indoor Stadium not only to kick off the season but to celebrate Duke Basketball.  Several video skits started the event off, with the most outrageous one mimicking the Titanic movie.  Nolan Smith played the role of Rose DeWitt [ Kate Winslett] and Andre Dawkins the role of Jack Dawson[Leonardo DeCaprio.]  Smith stripped down to a towel and some bling and posed while Andre painted the picture.
Former Duke All American Jason Williams was in the house announcing for ESPN where he interviewed Kyle Singler for the broadcast.  Christian Laettner and Bobby Hurley were also present and their presence took fans down memory lane when they won  back to back championships in the 90's.
Coach K's daughter, Debbie Savarino orchestrated the event and everything went off without a hitch.  By the time the players were ready to be introduced fans had been worked into a frenzy in anticipation of their first view of the 2009-10 Duke Blue Devils.   The lights went down and the team was introduced individually, each player having their own individual song -- many of them joking about.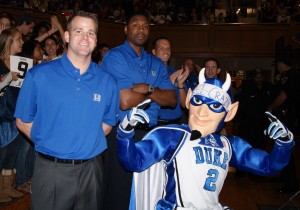 Once all of the players were introduced, the attention turned to the coaches.  Just before Krzyzewski was introduced he glanced into a packed and loud Cameron Indoor Stadium and his face told the tale.  His eyes got a little watery, but he never shed a tear and one has to wonder what was going in the maestro's mind .
If I were to guess he was probably reflecting on going into his 30th season and all that had happened in the years prior.  After all, his name is on the court and Coach K has become a brand name.  He may have been looking at the young men he loved anticipated coaching and ex players loved as well and a look around showed that he was surrounded and supported by his family.  And that family is not just his immediate family, but his Duke family.
When the action began, Mason Plumlee and Brian Zoubek jumped center and the season was officially underway.  The White team which basically consisted of perceived starters rolled in the first game winning 40-17.  Nolan Smith led the way with 15 points and Kyle Singler chipped in with 9 points.  Freshman Andre Dawkins led the Blue team with 7 points.
After a brief break they switched some players around and played the next game  which was quite close and competitive.  A Curry three pointer put his team within one at 23-22, then the redshirt sophomore hit another on an assist from Smith running the score to Blue 26 White 22.
Andre Dawkins answered with a three pointer of his own cutting the lead back to one, but a Smith lay up put his team back up three.  Not to be outdone, Kyle Singler drilled a three of his own with an assist from Scheyer, but that was answered by Curry's third three all in short time and that boosted the Blue to a 31-28 advantage.
Are you getting the picture yet? Each team was answering the call in a back and forth affair and the veteran Jon Scheyer hit yet another three-point shot with 1:09 left tying the game at 31 apiece.  At that point turnovers and missed shots brought the game to the 7 second mark.
Singler made a sweet move to get free, but Smith made an even sweeter block.  After a Casey Peters miss, Smith grabbed the rebound and was fouled on a drive.  After a timeout, Smith exalted the crowd to get loud and went to the line and drained two free throws with .08 second left on the clock.  Curry stole the in bounds pass and the Blue got an exciting victory over the White  by a 33-31 score.
Kyle Singler and Jon Scheyer led the losing White team with 11 and ten points.  Nolan Smith, the player of the evening, tallied 10 for the winning Blue team and Seth Curry gave Duke fans a preview of the future dropping 10 points himself.
Notes - Nolan Smith was 10 of 14 from the field for 25 points to go with 7 assists, Seth Curry had 10 points but 6 turnovers, Freshman Mason Plumlee struggled with 2 points, six rebounds  and 4 turnovers but he didn't play as bad as the stat line showed.  Kyle Singler had 20 points and 5 assists,  Andre Dawkins, Miles Plumlee 10 points and 6 boards, Lance 5 points and 6 rebounds, Ryan Kelly had 4 points and two boards.  Olek Czyz and Andre Dawkins shared the dunk  contest award as Joanne P. McCallie, Kevin White, Jason Williams and the Duke mascot were judges.  Lance Thomas announced the event.  Wojo had a great video where he played the role of Don Corleone.  The new men's basketball poster was unveiled and it has a mobster theme "Good Fella's."  BDN will bring you some photos from the event a bit later in this incredibly busy basketball weekend.  Don't forget Duke is holding an open practice and autograph session tomorrow.