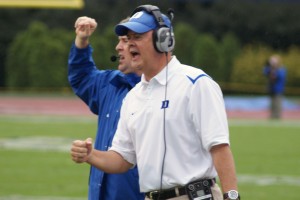 Durham, N.C. - Many old timers will tell you that when Duke has won a few games in the past fans come out of the woodwork.  Unfortunately for Duke, a good crowd dwindled as the rain periodically soaked Wallace Wade Stadium this past Saturday.
Putting fans in the seats in Durham has been no easy task, but it is true that victories seem to cure all ills.  Duke stands 4-3 going into Charlottesville where they'll face a Virginia team hell bent on revenge after being held to a field goal last season.
But if the Blue Devils can pull out a third consecutive ACC victory, fans will not only turn out when Georgia Tech comes to town, but they'll travel to Chapel Hill in force for a game with their rival.
Duke Coach David Cutcliffe will not allow his team to look ahead and he's stated what many of us know in that Duke cannot afford to look past anybody.  Still, you can bet that his mind may well drift thinking of what could be if Duke continues it's ascend back into the college football world.
One cannot help but wonder what it would be like to see a solid sea of royal blue in Wade and if the wins keep coming, you will see just that.
Fan Quote of the Week - "Duke is not only winning football games, but they are exciting to watch."  Now, when is the last time you heard anything like that being whispered around Duke Football?