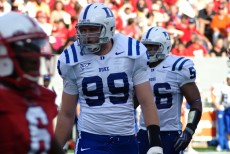 Blue Devils Travel To Charlottesville
Duke (4-3, 2-1 ACC) will head to Charlottesville, Va., on Saturday, Oct. 31 to face Virginia (3-4, 2-1 ACC). Kickoff is scheduled for 3:30 p.m. (ET) at David A. Harrison III Field at Scott Stadium. The game will be streamed live on ESPN360.com with Frank Giardina calling the play-by-play and Danny Kanell providing the color commentary. The Blue Devils have won two straight games after beating Maryland at home, 17-13, last weekend. The Cavaliers are coming off a 34-9 loss to Georgia Tech at home a week ago.
Last Time Out
Duke's defense and punt coverage unit came up with two takeaways in the final five minutes to help the Blue Devils earn a 17-13 win over Maryland. Vincent Rey intercepted a pass at the 4:09 mark and Brandon King recovered a fumble with 1:42 remaining to seal the win. Thaddeus Lewis completed 30-of-43 pass attempts for 371 yards and two touchdowns. Duke had two receivers go over 100 yards. Donovan Varner caught eight passes for 120 yards and one touchdown and Conner Vernon had five grabs for 102 yards.
Duke-Virginia Series
Virginia leads the all-time series between the two schools 32-28. Duke snapped an eight-game losing streak against the Cavaliers last season. Virginia has won the last four in Charlottesville.
Overall: Virginia, 32-28
First Meeting: Virginia, 10-4 in 1890
Last Meeting: Duke, 31-3 in 2008
Largest Duke Margin of Victory: 49 (49-0) in 1943
Largest UVA Margin of Victory: 59 (59-0) in 1990
Duke's Last Win in Charlottesville: 1999 (24-17 2OT)
Virginia's Last Win in Durham: 2007 (24-13)
Current Streak: Duke, W1
Last Meeting
The Blue Devils posted a big second half against Virginia last season, outscoring the Cavaliers 28-0 and forcing five turnovers after the game was tied 3-3 at halftime. Duke caused six turnovers in the game with Michael Tauiliili posting an interception, one forced fumble and one fumble recovery to go with 16 tackles. Jabari Marshall returned an interception 42 yards for a touchdown as well.
Inside the Numbers ...
.222 - Duke is tied for the ACC lead and tied for fifth nationally in fourth down defense as opponents are converting only 22.2 percent of their fourth down opportunities. The Blue Devils have not allowed a fourth down conversion in four attempts in the fourth quarter this season.
2 - Senior quarterback Thaddeus Lewis will move into a tie for fifth on the ACC career passing touchdowns chart with two passing touchdowns. Lewis currently ranks sixth with 63 career scoring tosses.
4 - The Blue Devils' punt coverage unit has recovered four fumbles this season with two returned for touchdowns. Last week against Maryland, Brandon King recovered a fumbled punt with 1:42 remaining in the fourth quarter to seal a win over the Terps.
5 - Sophomore wide receiver Donovan Varner is tied for the ACC lead with five touchdown receptions this season. He has caught a touchdown pass in four of the seven games this season.
5.57 - Junior wide receiver Austin Kelly leads the ACC with 5.57 receptions per game. He has caught five or more passes in five straight games and in six of the seven games overall on the year.
6 - True freshman Conner Vernon needs just six catches to tie the school record for receptions in a season by a freshman. Corey Thomas has held the record of 37 since 1994.
8-0 - Under head coach David Cutcliffe, Duke has an 8-0 record when leading after the third quarter. The Blue Devils have had leads heading into the final stanza in all eight of Cutcliffe's victories at Duke.
25 - For the first time in school history, four different wide receivers have caught 25 or more passes for the Blue Devils. Kelly (39), Varner (35), Vernon (31) and Johnny Williams (26) have all gone over 25 receptions in the first seven games.
100 - The Blue Devils had two wide receivers record over 100 yards against Maryland for the first time since 1999. Varner (120) and Vernon (102) each posted their second 100-yard games of the year. Vernon became the first freshman in Duke history with two 100-yard games in a season.
144.47 - Lewis has a quarterback rating of 144.47 this season, which currently ranks as the top mark in school history. Ben Bennett is the school's record holder with a 142.45 in 1982.
300 - With 289 career tackles, Vincent Rey is 11 stops shy of becoming the 13th player in Duke football history to register 300 career tackles.
322.6 - Duke leads the ACC and ranks sixth nationally in passing offense by averaging 322.6 yards per game through the air. The Blue Devils last led the league in passing offense in 1991. Duke also ranks third in the league in total offense with an average of 397.0 yards per game.
350 - With his 371-yard outing against Maryland, Lewis has now thrown for 350 or more yards in five career games. He is one of four quarterbacks in Duke history to have four or more performances of 350+ yards, joining Anthony Dilweg (7), Ben Bennett (6) and Spence Fischer (5).
2,000 - With 28 passing yards, Lewis will become the second player in ACC history with four 2,000-yard passing seasons. The only other player to accomplish the feat is N.C. State's Philip Rivers. Wake Forest's Riley Skinner is 51 yards shy of his fourth straight 2,000-yard season.
9,000 - Lewis is 293 yards away from becoming just the third Duke player and seventh player in the ACC with 9,000 career passing yards. He is 314 yards away from tying Spence Fischer for second all-time at Duke and sixth in ACC history.