Archives by date
You are browsing the site archives by date.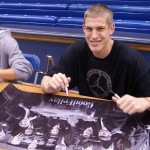 By Mark Watson on November 30, 2009
Durham, N.C. – According to sources close to the program, Mason Plumlee was to be evaluated by physicians today and, if all goes well, he could dress and see limited action versus Wisconsin in the ACC-Big Ten Challenge.  More to come in our Locker Room Report.
Posted in Duke Basketball | Tagged Blue Devil Nation, Duke-Wisconsin, Mason Plumlee

By Bob Green on November 30, 2009
Duke (6-0) takes on the Wisconsin Badgers (4-1) in the 11th annual ACC-Big Ten Challenge on December 2nd, in their first true road game of the young season. The two teams last faced each other two years ago with the Blue Devils pounding the Badgers 82 – 58. In last year's event, Duke defeated Purdue […]
Posted in Duke Basketball | Tagged Duke Basketball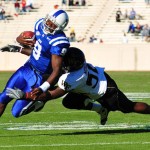 By Duke Sports Information on November 28, 2009
DURHAM, N.C. – Wake Forest quarterback Riley Skinner threw for 372 yards and five touchdowns as the Demon Deacons defeated the Duke Blue Devils, 45-34, Saturday afternoon in front 21,420 fans at Wallace Wade Stadium. Senior quarterback Thaddeus Lewis turned in a strong performance in his final game, completing 28-of-48 passes for 387 yards and […]
Posted in Duke Football | Tagged Coach Cutcliffe, Duke-Wake Forest, Thaddeus Lewis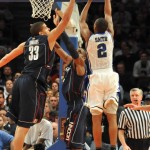 By Duke Sports Information on November 28, 2009
New York – The game that started with more wins between the coaches than any in Division I history was far from an instant classic. Duke and Connecticut combined to miss a total of 90 shots from the field, and the team that missed more of them rebounded its way to another big win at […]
Posted in Duke Basketball | Tagged Duke-UConn, NIT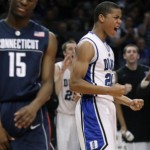 By Duke Sports Information on November 27, 2009
BDN will have more coverage to come but until then, here is Coach K's post game comments- MODERATOR:  Coach will make an opening statement and then he'll take questions. COACH MIKE KRZYZEWSKI:  It's a big‑time game.  Shots were so hard to come by.  Open shots.  Both teams are very, very good defensively.  And you know, […]
Posted in Duke Basketball | Tagged Coach K, Coach K Duke, Duke Basktball, Duke-UConn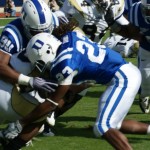 By Patrick Cacchio on November 27, 2009
It's Senior Day at Wallace Wade Stadium, as the Wake Forest Demon Deacons (4-7, 2-5 ACC) travel to Durham on Saturday to take on the Duke Blue Devils (5-6, 3-4 ACC) in the 2009 season finale. Fifteen Blue Devils Seniors will be honored for their contributions to the program. The game will be televised by […]
Posted in Duke Football