Chapel Hill, N.C. -The Duke Blue Devils three game ACC winning streak came to an abrupt halt as North Carolina sent them home with a 19-6 whipping boosting their record  to 6-3 overall  in the process.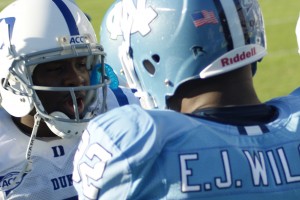 The game remained close for a long time despite the fact that Duke could not run the ball or pass it for that matter on the Tar Heel defense.  Duke was held to a season low 125 yards while UNC rolled up 311 yards with 166 of those coming on the legs of running back Ryan Houston.
"Offensively, what can you say about Ryan Houston and what he did tonight, 37 carries and 164 yards?  He was an absolute workhorse.  He pounded them and pounded them," said UNC Coach Butch Davis.
It was a day when everything the Devils tried pretty much backfired and Thaddeus Lewis had very little time to try and find his receivers.  Duke just got their tales whipped on both sides of the ball and in doing so fell to 5-4 overall and 3-2 in the ACC.
Coach David Cutcliffe had mentioned earlier in the week that Duke didn't match up well with North Carolina and that became obvious as the game went on.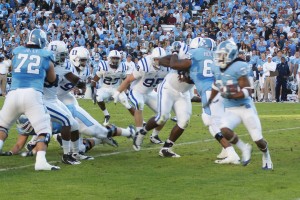 One big sequence happened when Leon Wright intercepted a pass that seem to give the Blue Devils a huge lift, but Lewis returned the favor shortly thereafter misfiring to Charles Brown who returned the ball 54 yards to the Duke 20 yard line.  Duke held North Carolina to a field goal making it 9-6, but they never really recovered and continued to sputter on offense.
In short, North Carolina effectively exposed a Duke weakness in pass protection and run blocking with their defensive front.  The Blue Devils managed just 12 yards rushing in the contest.
Duke will next turn their attention to a home game with Georgia Tech next week and Cutcliffe stated that his goal was for Duke to play their best football game of the year when they take the field.
Only time will tell if that is to happen, but you can pretty much bet that Duke will be hard pressed to play this inefficiently on offense two consecutive weeks.
Notes - This was the first time this season that the Duke offense failed to score a touchdown.  Conner Vernon broke a freshman record for receiving yards with 583 and counting.  Jordan Byas blocked punt was the second for Duke this season.  Lewis also climbed the career passing charts.
Quote of the day - "We didn't play very well; North Carolina played extremely well.  We were fortunate to have a chance there in the fourth quarter to win the game because the bottom line is we got whipped.