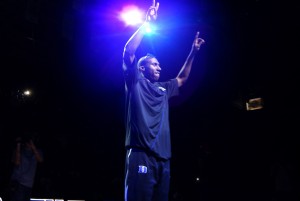 Durham, N.C. - The Duke Blue Devils rolled past the visiting Charlotte 49ers by a score of 101-59 in the second round of the NIT.  In the process, the Blue Devils climbed to 3-0 on the young season.
The Blue Devils delivered a quick knockout blow in the first half where they took a 30 point lead into the locker room.  There were many bright spots for Duke on a night of career high stats for many players.
Smith's return was just the spark the offense needed.  Smith was the games high scorer with 24 points [a career high] and he tied Scheyer with 5 assists to go with 5 boards and 2 steals.
"Nolan is going to get involved.  We don't have to set anything up for him because he's an outstanding player," said Krzyzewski.
I've been anxious to get back out there.  I was ready to make plays.  I wanted to play well and feed off Kyle and Jon.  They've been playing great basketball and they were looking for me," said Smith
Jon Scheyer chipped in with 20 points and Kyle Singler ended the game with 17.
Duke was also able to use their height as Miles Plumlee had dual career highs of  15 points and 11 rebounds [10 defensive] for his first double-double.
Krzyzewski said of Miles, "He can really run the court and likes to dunk and we like him to dunk [smiling and turning to Scheyer and Singler who nod yes].  His defense was good and his rebounding was good.  With the amount of minutes he played last year, he's still like a freshman."
Brian Zoubek fell one point short of a double-double finishing with 9 points and he tied a career with 13 rebounds.
As good as the offense was, it was the Devils defense which pleased Coach Krzyzewski after the game.  Duke held Charlotte to 33.9% from the field.
The Blue Devils turned in 29 points off turnovers as well and outscored their opponent 42-22 in the paint.  The Blue Devils will now face the winner of the Arizona State- TCU game in New York on Wednesday November 25th.
Duke is now 22-2 all time in NIT play.  Duke extended their NCAA leading home winning streak versus non conference opponents to 71 games.  Duke had an amazing 21 assists with six players recording two or more.