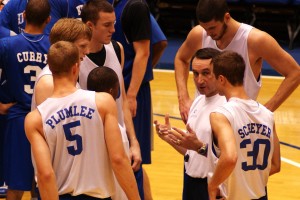 DURHAM, N.C. – The Duke Varsity Club will host the biggest men's basketball reunion in the history of the program February 12-13 when the Blue Devils celebrate head coach Mike Krzyzewski's 1,000th game coaching at Duke and his 30 years heading the program, plus the 70 years of legendary basketball in Cameron Indoor Stadium.
Over 300 former players, managers, coaches and trainers, spanning the past 70+ years of Duke Basketball, will be invited back for the celebration.
The weekend will include a reception hosted by Duke University Vice President and Director of Athletics Kevin White, a public recognition of the entire group at the Saturday, Feb. 13 Duke-Maryland game (1:00 p.m. - CBS) and an after-game party with the current Duke coaching staff.
"This will be an exciting weekend and a great way to celebrate the history of Duke Basketball by recognizing and honoring all of the people that have made it so successful – the players, managers, coaches and trainers," said White.
"The Varsity Club has a great history of hosting fantastic reunions and events to celebrate all of our 26 intercollegiate programs at Duke," said director Mary Dinkins.  "This may just be the biggest we've ever had and it comes at a perfect time in having all of our generations together again at their home away from home – Duke University."
Duke, ranked ninth in the AP preseason poll and eighth in the Coaches' poll, opens the 2009-10 season on Friday, Nov. 13 against UNC Greensboro in Cameron Indoor Stadium. The season opener will tip at 7:00 p.m. and will be televised on Fox Sports South.