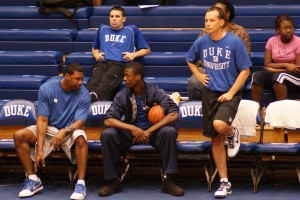 My original plan was to run all of the interviews we have done with Harrison Barnes for Blue Devil Nation Premium [subscription service] on our free board this week.  After reading Barnes comments from eight different interviews, we decided to just break it down for you in that his answers have been incredibly consistent.
Despite the fact that names like Duke, Kansas, Oklahoma and UNC are some of college hoops best and that they are all in the running for Barnes services, the young man did not grow up watching college basketball.  He was instead reared on NBA basketball and that is where he learned a lot of his skills.
That means he didn't really understand the Duke-UNC rivalry unti this past year and that places like the Dean Dome and Cameron Indoor Stadium were all new to him.
BDN covered Barnes during seven AAU events and we personally saw the coveted prosepect play in 24 or more games since the first time we saw him.  That first time was during the NBAPA Top 100 Camp in 2008.  Up until that time Barnes had played with All Iowa Attack and they quite simply did not attend the major events.
That led Barnes to start playing with Howard Pulley [Minnesota] and that allowed the media types and scouts to see what all the hype was about.  Howard Pulley is in a rebulding mode, so Barnes would pretty much carry the load, but he is more than willing to do that anytime, any place, any where.
BDN has learned and seen firsthand that Barnes will not back down from a challenge and that his confidence is rarely shaken.  Even when tired Barnes leaves every ounce of energy on the court no matter what the situation.  There were a couple of occasions where Barnes would handle the ball during crunch time during this past seasons NBAPA Top 100 Camp.
Each time the best prospects in the land would clear out for him and each time Barnes finished the deal against talented competition.  But Barnes is more than just a scorer.  He is always around the ball and plays to his teammates as much as possible.  Observers would have seen more of this had Barnes played with better teammates on the AAU circuit.
Anyway, back to the interviews and Barnes consistency for it could well be telling come Friday.  Barnes has maintained since day one that he would not make a decision until he had made all of his visits.  Guess what?  He took all of them.  You see, Barnes is methodical in everything he does.
Unlike some kids his age, Barnes seems to be an old soul in that his demeanor is always professional.  During all of my views on and off the court, Barnes is always on his best behavior and you never see him, cutting up in an animated way.  He is aware of his surroundings and seems tuned in to what he wants.
When sorting through the numerous interview questions it became clear that Barnes has stuck to his word in most every way.  He's not the type of kid who'll rush into anything without disecting all of the facts from fiction and evaluating the pro's and con's. That's why he took each and every visit.
The one thing that has changed in his recruitment is that the Barnes camp decided to speak through certain media outlets where he has kept a diary.  As of a couple of months ago, Barnes would not take calls from the numerous schools sites and he refused to talk about any of the details of his visits.
I have dealt with many kids during similar processes and I can tell you that Harrison Barnes has a good poker face and anyone who claims they have penetrated that are fooling themselves.
Maybe that's why the makers of Prozac are apt to get a boom in their business come Friday, for many a fan will have been absorbed by rumors and supposed leanings that change every ten minutes on the Internet.
I mean, some depression is guaranteed, especially if Barnes chooses Duke or UNC for that rivaly is unmatched in collegiate sports.
But the bottom line is that this decision will likely stay a secret until the moment he announces.  While that may be tedious for our instant gratificatin society that wants to know it all right now, it's kind of refreshing.  I mean, when is the last time a player got his day to shine in the light at his bequest?
Blue Devil Nation will have more on Barnes in the coming hours, so stay tuned.  For more on Barnes, join Blue Devil Nation Premium and discuss the matter on the fastest growing premium message board around.  Once a member you can discuss the latest happenings with knowlegable fans and insiders.