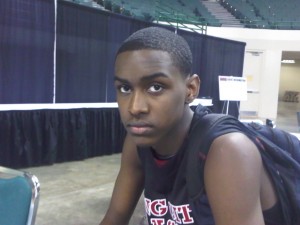 Blue Devil Nation will once again be covering High School Hoops during the 2010 season. As we've done the past couple of seasons, we will scour the Internet in order to provide the Duke faithful with player updates, game results, links to articles and box scores, along with our critical analysis and commentary on high school action for players committed to Duke as well as recruiting targets. This season our High School Hoops articles will be posted as premium content so we invite all visitors to join Blue Devil Nation, kick back and allow us to do the heavy lifting, so you, our faithful readers can enjoy this one stop site for Duke related high school basketball coverage.
This coming season, we will be keeping tabs on the following committed Duke players: Josh Hairston (Montrose Christian), Kyrie Irving (St. Patrick), and Tyler Thornton (Gonzaga College HS). Additionally, we will closely follow recruiting targets Roscoe Smith (Oak Hill Academy), Brad Beal (Chaminade College Prep), Quincy Miller (Quality Education Academy), Marshall Plumlee (Christ School), Austin Rivers (Winter Park HS), and J.P. Tokota (Menomonee Falls HS).
In early season action, Marshall Plumlee and Quincy Miller's teams went head to head [private] with Christ School defeating Quality Education Academy 95 – 79. Quincy Miller scored 26 points for QEA, while Christ School was led by University of South Carolina recruit Eric Smith with 21 points. Marshall Plumlee contributed 8 points and 8 rebounds for the Greenies. Coach David Gaines stated the Greenies would be adopting an uptempo offense focused on taking a lot of three-point shots. It will be interesting to see how 7'-0" Marshall Plumlee fits into the new offensive scheme.
The Greenies improved to 2 – 0 by defeating Veritas Christian Academy, 79 – 59, on Thursday evening. Marshall Plumlee scored 8 points and grabbed 8 rebounds for the second game in a row.
Oak Hill Academy kicked their season off on 31 October with a 100 – 55 win over Central Carolina Academy. Roscoe Smith was the leading scorer with 24 points. In a 105 – 76 defeat of Flora McDonald Academy, Roscoe Smith scored 28 points and grabbed 16 rebounds. Flora McDonald features N.C. State recruit Luke Cothran.
Looking ahead, there will be multiple players from our Watch List participating in various Holiday Tournaments this year. Winter Park HS, featuring Austin Rivers, will play in the City of Palms Classic December 18 - 23. Gonzaga College HS and Montrose Christian Academy will both travel to Honolulu, Hawaii to participate in the Iolani Classic December 17 – 22. Those schools feature Tyler Thornton and Josh Hairston respectively. The Chick-fil-A Classic December 18 – 22 will include Christ School and Marshall Plumlee.
Following up on one of the players we tracked last season, Josh Smith (6'-9" 280) from Kentwood HS in Covington, WA has committed to play his college basketball with the UCLA Bruins. Blue Devil Nation wishes Josh the best of luck in Westwood. [/private]