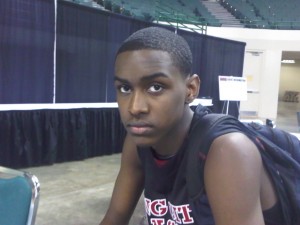 Blue Devil Nation will once again be covering High School Hoops during the 2010 season. As we've done the past couple of seasons, we will scour the Internet in order to provide the Duke faithful with player updates, game results, links to articles and box scores, along with our critical analysis and commentary on high school action for players committed to Duke as well as recruiting targets. This season our High School Hoops articles will be posted as premium content so we invite all visitors to join Blue Devil Nation, kick back and allow us to do the heavy lifting, so you, our faithful readers can enjoy this one stop site for Duke related high school basketball coverage.
This coming season, we will be keeping tabs on the following committed Duke players: Josh Hairston (Montrose Christian), Kyrie Irving (St. Patrick), and Tyler Thornton (Gonzaga College HS). Additionally, we will closely follow recruiting targets Roscoe Smith (Oak Hill Academy), Brad Beal (Chaminade College Prep), Quincy Miller (Quality Education Academy), Marshall Plumlee (Christ School), Austin Rivers (Winter Park HS), and J.P. Tokota (Menomonee Falls HS).
In early season action, Marshall Plumlee and Quincy Miller's teams went head to head


Sorry, but you must become a premium subscriber to view the rest of this post.

Join now by visiting the PREMIUM MEMBERSHIP link at the top of the page, where you can learn more about the benefits of a Blue Devil Nation Premium membership.