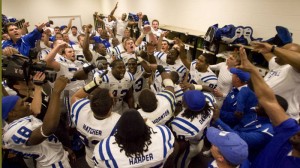 The Duke Blue Devils won their third consecutive ACC game by beating Virginia in Charlottesville 28-17 on Saturday.   Maybe it's time to start believing in this team for a quick look at the standings shows that the Blue Devils are in sole possession of second place in the ACC's Coastal Division.
Coach Cutcliffe and his staff continue to surprise the college football world in just their second year in Durham and a change in culture is happening in more ways than one..  Duke and Virginia went toe to toe for most of the game, but a consistent and resilient game plan allowed Duke to push their record to 3-1 in the ACC and 5-3 overall.
Thaddeus Lewis made big plays when it counted and was cool under pressure while Nick Snyderwine connected on 5 of 5 field goals, showing what it means to have consistency in the kicking game.  Plenty of other Devils helped as well and we'll continue coverage on this key win mid afternoon.  Until then, check out the links page.