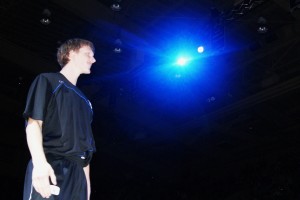 Luke Harangody should get used to being on top of lists.
The senior forward from Notre Dame was the leading vote-getter Monday on The Associated Press' preseason All-America team, and if he has the type of season he usually does, he will become the leader for his school and conference in scoring and rebounding.
The 6-foot-8 Harangody received 57 votes from the 65-member national media panel and was followed in the balloting by Kansas teammates Cole Aldrich and Sherron Collins.
Aldrich, a 6-11 junior who recorded a triple-double in the NCAA tournament, received 49 votes, 10 more than Collins, a senior point guard.
Junior forwards Patrick Patterson of Kentucky, who had 35 votes, and Kyle Singler of Duke, who had 30, rounded out the team announced Monday.
Harangody averaged 23.3 points and 11.8 rebounds last season, the only player to rank in the top 10 nationally in both categories. He was a pres
Aldrich's stock rose all last season and it culminated with the first official triple-double in Kansas history when he had 13 points, 20 rebounds and 10 blocks in a second-round NCAA win over Dayton.
Collins didn't become a full-time starter until last season when he averaged 18.9 points and 5.0 assists in earning third-team All-American honors. He and Aldrich are the stars of a deep Kansas team picked No. 1 in the preseason Top 25.
Aldrich and Cole are the first teammates chosen to the preseason team since J.J. Redick and Shelden Williams of Duke in 2005-06.
The 6-9 Patterson averaged 17.9 points and 9.3 rebounds for the Wildcats last season and he's expected to be more of an inside presence this season with the addition of freshman point guard John Wall to new coach John Calipari's offense.
Singler averaged 16.5 points and 7.7 rebounds last season for the Blue Devils but his role should change to more of a perimeter one this season.