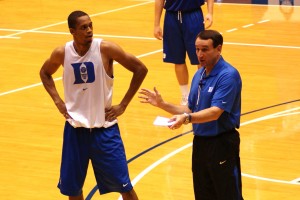 Game 4
Duke (3-0) vs. Radford (2-0)
Saturday, Nov. 21, 2009  •  3:00 p.m.  •  GoDuke.com
Cameron Indoor Stadium (9,314)  •  Durham, N.C.
The Opening Tip
Duke (3-0), ranked ninth in the AP preseason poll and eighth in the ESPN/USA Today Coaches' Poll, faces Radford (2-0) on Saturday, Nov. 21 at 3:00 p.m. Saturday's contest will be shown live on GoDuke.com Inside Access with Reese Edwards and John Roth calling the action.
The Last Time Out
Duke posted its 71st consecutive non-conference home win on Tuesday with a 101-59 decision over Charlotte at Cameron Indoor Stadium. With the win, Duke advanced to the semifinals of the NIT Season Tip-Off (Nov. 25-27) at Madison Square Garden.
Junior Nolan Smith made his season debut against the 49ers, scoring a career-high 24 points to go along with five rebounds, five assists and two steals. Jon Scheyer added 20 points, six rebounds and five assists in the win, while Kyle Singler added 17 points.
Sophomore Miles Plumlee posted career-highs in points (15), rebounds (11), assists (2) and steals (2) on Saturday. Brian Zoubek came off the bench to score nine points and match a career-high with 13 rebounds, including eight offensive boards.
Six different Blue Devils made three-pointers against Charlotte as the team went 12-of-21 (.571) from deep in the contest.
Series History
Duke is 1-0 all-time against Radford with a 99-63 win in Lexington, Ky., on March 13, 1998 in the opening round of the NCAA Tournament.
Numbers Game
l The Blue Devils have won an NCAA-best 71 consecutive non-conference home games.
l Duke has won 31 straight home games against unranked opponents, dating back to a 68-67 loss to Florida State on Feb. 4, 2007.
l The Blue Devils have won 14 straight games and are 27-9 all-time against Big South opponents. Duke posted a 74-49 win over Big South foe Coastal Carolina on Monday.
l Duke is 49-14 when ranked ninth in the AP poll. The Blue Devils have won eight straight games when ranked No. 9 in the country.
l The Blue Devils are 99-10 in the month of November under Coach K. Duke has won 19 straight games in the month, dating back to a Nov. 21, 2006 loss to Marquette.
l Junior Nolan Smith went 9-of-15 from the field, including 2-of-3 from three-point range, in a career-best 24-point effort against Charlotte. Smith missed the first two games of the season while serving a suspension for a violation of rules pertaining to summer league participation.
l Sophomore Miles Plumlee and senior Brian Zoubek combined for 24 points and 24 rebounds in 40 minutes of action in the win over Charlotte. The post duo is averaging 21.7 points and 17.0 rebounds per game, while shooting 64.3 percent (27-of-42) from the floor, for the season.
l Jon Scheyer has 14 assists and zero turnovers in 103 minutes of action on the year. The Northbrook, Ill., native has a 1.78:1 assist-to-turnover ratio in 107 career games.
l Sophomore Miles Plumlee is averaging 11.7 points and 8.7 rebounds per game after recording 1.8 points and 1.4 rebounds per game a year ago. He has scored in double figures in all three games this season and registered his first career double-double with 15 points and 11 rebounds on Tuesday against Charlotte.
l Junior Kyle Singler had 17 points on Tuesday and has now scored in double figures in 18 straight games dating back to last season. Overall, Singler has reached 10 or more points scored in 62 of 74 career games.
l The Blue Devils have shot 50.0 percent or better from the field in two of three games this season. Duke is 421-30 under Coach K when shooting 50.0 percent or better from the field.
l Duke has limited its last two opponents to 31.3 percent shooting (36-of-115) from the field. The Blue Devils also held Coastal Carolina and Charlotte to 11-of-38 (.290) shooting from behind the three-point arc.
l The Blue Devils are averaging 39.3 points in the paint per game and own a +17.3 points per game edge on interior scoring of the year. Duke has scored 40 or more points in the paint in two of its first three games.
l Jon Scheyer (1,397 points) and Kyle Singler (1,120 points) are the highest returning career scoring tandem in the ACC with 2,517 career points. The duo is averaging 36.0 points per game on the season.