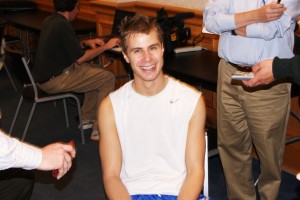 The Blue Devil Nation's coverage of Duke in New York continues as Andre Slater talks wth Duke's Jon Scheyer -
What was the game plan going into this game?
Well, the big thing about them is they have a lot of guys that can really shoot the ball. So, for us going into this game, we really wanted to take away their threes. You know, the last game they had eighteen threes. So that was the big thing. They basically changed up their offense, going exclusively ball screens. For us, we were basically trying to take their perimeter from them and I think we did a good job with that.
It seems like in the first half, you guys were having some problems getting the ball inside against the zone. In the second half, it seemed like you were able to penetrate into the zone a couple of times. What changed?
Um, I think we were a little bit more poised and we tried to take our time running the offense in the second half.
What were they doing in the first half that was destructing the offense?
Um, I think that they were physical. They did a good job pushing us out a little bit. That set us back at first, but, once we started to get the ball in the scoring area and driving the ball better, then that's when we started scoring more.
Your turnover streak ended. Care to comment?
(laughs) Yeah, everybody jinxed me after the last game. (laughs)
How do you account for your lack of turnovers this year?
You know, I'm just trying to take care of the ball and make good decisions. That's something. I know our offense and I know the guys. I just want to put my team in a good position. I've been doing that and trying not to make too many risky passes.
Did you anticipate the challenges in this game? I know it's pretty early into the season. Do you feel like you guys responded well to the challenges that came tonight?
I think we did. Obviously, Arizona State is a good team and, you know, people dismiss them a little bit, but we knew they were going to be a good team. For us, I thought we did a really good job of just taking their punches and then punching back. We made some big stops in the second half. After the first few minutes, I thought our defense was really good the rest of the way. So that was something I was proud of our team in doing that.
You're now facing the University of Connecticut, as a matchup of two titans. Are you looking forward to that kind of matchup?
I love playing in big games and obviously they'll have a lot of fans here and we will too. They're obviously a great team, so for me, being able to play in Madison Square Garden in the championship game against UConn is something that any player would be excited for, but especially myself, I just love playing in big games. That's something I'm excited for.
As a senior, do you find yourself savoring and appreciating each game and trip more than you had when you were younger?
Well, I've always loved big games no matter what age I am, but, obviously, I cherish them a little bit more because I know there's not many of them left. I'll definitely enjoy this one.
As a history major, is your legacy at Duke something that is very important to you?
Oh, yeah, I mean, of course. I just want to be known as a competitor and I want to be known as a winner and this year obviously we have a lot to do, but I want to go out winning and just be known for being a competitor. That's what I'd like to be known for.
After your playing career is over, whenever that is, do you have any interest in getting into coaching?
Yeah, I just always see my life with basketball in it. I mean, with coaching, I feel like I have a great mind for the game and that's something that hopefully one day whether it's in high school or college or whatever it might be, but at some point, I'd like to.
Do you speak regularly to your ex-roommate, Mr. Henderson? How is he doing so far?
Yeah, I actually talked to him today. He's doing well. He's going to have a great pro career and I'm always keeping up with him and he's always keeping up with me. We just keep in touch, talk about things, and he's one of my great friends.
You've been a captain of the team for the last two years. How do you compare the two teams?
Yeah, they're a little bit different. The thing with this team, we have a great age range. We have seniors, juniors, sophomores, and freshmen and so you need to know how to talk to the guys and know them and now I have one year under my belt and so I feel I'm that much better a captain for it.
Lastly, this one's way out there. My sister's a big Ferris Bueller fan. Were there a lot of Ferris Bueller fans that would show up at your high school to see where part of the movie was shot or take pictures?
(laughs) Yeah, not too many anymore, it's been a few years, but I always point it out to people when it's on TV that that's my high school (laughs)
Don't listen to him. He's always talking about that.