Archives by date
You are browsing the site archives by date.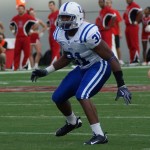 By Mark Watson on November 24, 2009
The Duke Blue Devils play their last game of the season this Saturday against Wake Forest where fans have one more chance to salute some fine football players playing their last game.  One of those seniors will be Vincent Rey, a young man that has become a big time play maker on the defensive side […]
Posted in Duke Football | Tagged Blue Devil Nation, Duke Wake Forest Football, Vinnie Rey Duke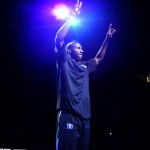 By Duke Sports Information on November 23, 2009
DURHAM, N.C. – Duke guard Nolan Smith was named ACC Player of the Week on Monday as announced by the conference office. Smith averaged 22.0 points, 6.0 assists and 4.0 rebounds, while shooting 56 percent (15-of-27) from the field, including 60 percent (6-of-10) from three-point range, and 100 percent (8-of-8) from the foul line in […]
Posted in Duke Basketball | Tagged BDN, Duke Basketball, Nolan Smith
By Bob Green on November 23, 2009
Duke (4-0) will face the Arizona State Sun Devils (4-0), on Wednesday Nov. 25, in the semi-finals of the NIT Season Tip-Off, at Madison Square Garden. The Sun Devils return three starters off of last season's 25 -10 team: senior point guard Derek Glasser, junior forward Rihards Kuksiks, and junior shooting guard Ty Abbott. The […]
Posted in Duke Basketball | Tagged Duke Basketball, NIT Season Tip-Off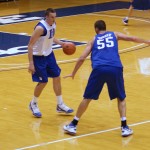 By Mark Watson on November 23, 2009
Miles Plumlee recorded his second straight double-double versus Radford this past Saturday.  BDN was there to get his thoughts on his performance Duke travels to New York to face Arizona State in an NIT semi final match up.
Posted in Duke Basketball | Tagged Blue Devil Nation, Duke NIT, Miles Plumlee, Plumlee Duke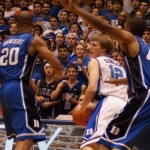 By Duke Sports Information on November 23, 2009
Game 5   •  NIT Season Tip-Off Semifinal Duke (4-0) vs. Arizona State (4-0) Wednesday, Nov. 25, 2009  •  9:00 p.m.  •  espn2 Madison Square Garden (19,763)  •  New York, N.Y. The Opening Tip Duke (4-0), ranked ninth in the AP poll and eighth in the ESPN/USA Today Coaches' Poll, faces Arizona State (4-0) on Wednesday, […]
Posted in Duke Basketball | Tagged BDN, Duke Basketball, Duke NIT, Duke-Arizona State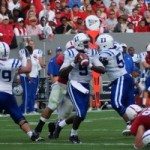 By Bob Green on November 22, 2009
Thaddeus Lewis is now the all time leading passer in the history of Duke Football. He broke the record in his penultimate college game by throwing for 303 yards against the Miami Hurricanes to bring his career total to 9,678 yards. The record was previously held by Ben Bennett with 9,614 yards. As a senior, […]
Posted in Duke Football | Tagged David Cutcliffe, Duke Football, Thad Lewis, Thaddeus Lewis