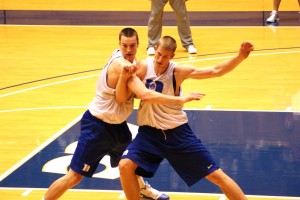 Game 7   •  Big Ten/ACC Challenge
Duke (6-0) vs. Wisconsin (4-1)
Wednesday, Dec. 2, 2009  •  9:15 p.m.  •  ESPN
Kohl Center (17,230)  •  Madison, Wisc.
The Opening Tip
Duke (6-0), ranked sixth in the AP poll and fifth in the ESPN/USA Today Coaches' Poll, faces unranked Wisconsin (4-1) on Wednesday, Dec. 2 at 9:15 p.m in the Big Ten/ACC Challenge. Wednesday's contest will be aired by ESPN with Brent Musburger, Bob Knight and Holly Rowe calling the action.
The Last Time Out
Duke is coming off a 68-59 win over Connecticut on Friday in the championship game of the NIT Season Tip-Off. The Blue Devils claimed the tournament title for the fourth time in school history with senior Jon Scheyer grabbing Most Outstanding Player honors.
Scheyer finished with a game-high 19 points, five rebounds, five assists and three steals. Nolan Smith, an all-tournament team selection, had 16 points and freshman Andre Dawkins added 11 points.
Senior Lance Thomas recorded his first career double-double with 11 points and 11 rebounds, while Brian Zoubek also grabbed 11 boards (seven offensive). Duke held a 56-43 edge on the glass for the game and finished with 25 offensive rebounds.
Big Ten/ACC Challenge History
Duke is 10-0 all-time in the Big Ten/ACC Challenge, including an 82-58 win over Wisconsin on Nov. 27, 2007. The Blue Devils have won three true road games in the Big Ten/ACC Challenge and are one of two undefeated teams (Boston College [3-0] is the other) in the event. The ACC has won all 10 challenges to date.
Numbers Game
l The Blue Devils have won seven of their last eight games against Big Ten opponents. Duke is 62-24 all-time against the conference.
l The Atlantic Coast Conference has won the previous 10 Big Ten/ACC Challenges. The ACC is 62-35 (.639) in the event, including a 10-0 slate by Duke.
l Duke has won seven of its 10 Big Ten/ACC Challenge games away from Cameron Indoor Stadium. The Blue Devils are 4-0 in neutral site games and 3-0 on the road.
l The Blue Devils are 156-25 in the month of December under Coach K. Duke has won three straight games and is 48-3 since the 1999-2000 season in December contests.
l Junior Nolan Smith has reached double figures in scoring in four straight games. He is averaging 18.5 points per game, a scoring jump of +10.1 ppg. from a year ago.
l Jon Scheyer has 32 assists and just four turnovers in 208 minutes of action on the year. The Northbrook, Ill., native has led the Blue Devils in assists in all six games and leads the ACC in assist-to-turnover ratio at 8.0:1. He is also tied for fifth in the league in assists per game (5.3).
l Andre Dawkins leads the ACC in three-point field goals (2.7 3pg.) and has made two or more threes in five of six games. Dawkins is 10-of-14 (.714) from three-point range in the last three games.
l Senior Brian Zoubek leads the team and ranks ninth in the ACC in rebounding at 8.5 rpg. He is tied for the league lead in offensive rebounds at 4.8 orpg. Zoubek, who will play in his 100th career game on Wednesday, entered the season averaging 3.1 rebounds per game.
l Junior Kyle Singler has made at least one three-point field goal in 21 straight games dating back to last season. He is eighth in the ACC in three-point percentage (.414) and tied for 10th in three-point field goals per game (2.0) on the year.
l Duke has held its last five opponents under 40 percent shooting from the field. The Blue Devils are 297-9 under Mike Krzyzewski when holding opponents under 40 percent shooting.
l Duke shot just 28.4 percent from the field in Friday's win over Connecticut, marking just the fourth time under Coach K the Blue Devils have shot below 30.0 percent in a game. Prior to Friday's contest, Duke's last win when shooting under 30.0 percent was Feb. 4, 1950 against Navy.
l Duke outrebounded Connecticut, 56-43, marking the sixth time the Blue Devils have outrebounded the opposition this season. Duke is 483-55 under Mike Krzyzewski when holding the edge on the boards.
l Nolan Smith has played all 40 minutes in each of the last two games.
l Duke held Connecticut without a three-point field goal in last Friday's win. The Blue Devils are allowing just 3.7 three-point field goals per game on the year.