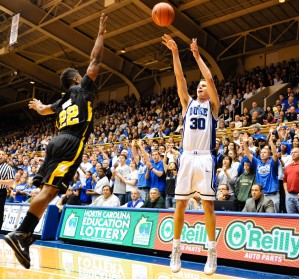 Durham, N.C. - The Duke Blue Devils earned their 10th victory of the season with an 84-63 win over Long Beach State.  The difference in the game was the Devils first half defensive effort.  That effort held Long Beach State to 29.4 percent from the field and 25 points.  Duke looked a little lethargic in the second half but picked up the defense towards the end of the half assuring an easy victory.
The Duke upperclassmen came to play tonight as senior captain Jon Scheyer led the way with 19 points and 7 assists and once again had no turnovers.  His back court mate Nolan Smith added 19 points and 7 assists and he too did not commit a turnover.
Kyle Singler scored just three second half points, but tallied 14 for the game to go with 9 rebounds.  Brian Zoubek continued to play within himself and that translated into a double double of 10 points and 12 boards.  Fellow senior Lance Thomas finished the game with 10 points.
Duke played a total of eleven players but the bench saw little action in the second half in that the Devils would outscore the visitor by a single point.
The Blue Devils were tough on the offensive boards scoring 22 points on put backs and for the most part neutralized any inside games from the Beach as they are called by their own fans.
Duke also outrebounded the visitor by a 44-36 margin and the team had a season high ten blocks in the contest with freshman Mason Plumlee leading the way with four.  Duke is 9-0 when they garner more boards than  their opponent.
Duke extended it's non conference winning streak in Cameron to 75 straight games.  Duke was on fire from the three point stripe going 15 of 26 giving them four games with 10 or more treys.
The Devils will next play the Penn Quakers on New Years Eve in a game which starts at 6:00 EST.  Stay tuned for the BDN Locker Room Report with interviews from Nolan Smith and Jon Scheyer.