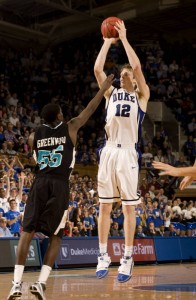 [7 AP/7 Coaches] Duke (8-1) vs. [15 AP/15 Coaches] Gonzaga (8-2)
Saturday, Dec. 19, 2009  •  4:00 p.m.  •  CBS
Madison Square Garden (19,763)  •  New York, N.Y.
The Opening Tip
Duke (8-1), ranked seventh in the AP poll and ESPN/USA Today Coaches' Poll, faces Gonzaga (8-2) at Madison Square Garden on Saturday, Dec. 19 at 4:00 p.m. Gonzaga enters the contests ranked 15th in both polls. Saturday's game will air on CBS with Verne Lundquist and Clark Kellogg calling the action.
The Last Time Out
Senior Jon Scheyer posted a career-high 36 points on 11-of-13 shooting to lead Duke to a 113-68 win over Gardner-Webb on Tuesday. Scheyer also knocked down a career-best seven three-pointers and added eight rebounds and nine assists.
Andre Dawkins added 16 points, while Brian Zoubek and Miles Plumlee each scored 13 points in the contest. Juniors Kyle Singler and Nolan Smith netted 11 points apiece to give the Blue Devils six double-figure scorers.
The Blue Devils shot 65.2 percent (43-of-66) from the floor, including 57.9 percent (11-of-19) from three-point range, in the game. Duke shot nearly 70 percent from the field after halftime, unloading for 64 second half points to match the 10th-best scoring half in school history.
Blue Devils At Madison Square Garden
Duke is 25-14 all-time, including a 20-6 mark under Mike Krzyzewski, at Madison Square Garden. The Blue Devils have won five straight and 12 of their last 13 games at MSG. Duke posted wins over Arizona State and Connecticut at MSG in November en route to the 2009 NIT Season Tip-Off championship.
Numbers Game
l The Blue Devils are 158-26 in the month of December under Coach K. Duke is 50-4 in December since the 1999-2000 season.
l Duke is 8-1 all-time against teams currently in the West Coast Conference, including a 6-0 mark under Mike Krzyzewski. The Blue Devils have won six straight against the WCC.
l The Blue Devils are 2-0 at Madison Square Garden this season with wins over Arizona State and Connecticut in the NIT Season Tip-Off. Duke has won its last five games at MSG.
l Senior Jon Scheyer leads the NCAA in assist-to-turnover ratio (6.4:1), while playing over 35 minutes per game. He has led Duke in assists in all nine games with five turnover-free games on the year.
l Senior Brian Zoubek leads the Blue Devils in rebounding at 7.8 boards per game. He is the only non-starter in the ACC to rank in the top 20 in rebounding. Zoubek is tied for for 12th in the league in rebounding, while also ranking third in offensive rebounds at 4.0 orpg.
l Jon Scheyer is averaging 25.5 points, 5.5 rebounds and 7.5 assists per game in Duke's last two contests. He is shooting 55.6 percent from the field, including 52.9 percent from three-point range, in that span.
l Freshman Andre Dawkins and senior Jon Scheyer are tied for second in the ACC  with 2.6 three-point field goals per game. Both players also rank in the top 10 in three-point percentage, shooting a combined 46.5 percent (46-of-99) from deep.
l Duke's post tandem of Miles Plumlee and Brian Zoubek is combining to average 15.2 points and 14.7 rebounds per game, while shooting 61.3 percent (57-of-93) from the field.
l Junior Nolan Smith has scored 10 or more points in a career-best seven straight games. He is averaging 16.3 points per game, a 7.9 ppg. increase from a year ago for the third-highest scoring jump in the ACC.
l Duke is the only team in the ACC with more than one player ranked in the top 10 in scoring. Jon Scheyer is tied for second at 18.0 ppg., while Kyle Singler (16.4 ppg.) and Nolan Smith (16.3 ppg.) rank seventh and eighth respectively.
l The Blue Devils are 2-0 this season against teams ranked in the top 10 of the RPI.