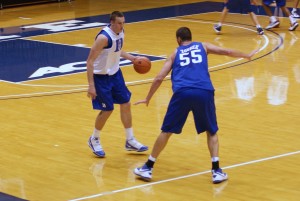 Game 9
[8 AP/8 Coaches] Duke (7-1) vs. Gardner-Webb (3-4)
Tuesday, Dec. 15, 2009  •  7:00 p.m.  •  espn2
Cameron Indoor Stadium (9,314)  •  Durham, N.C.
The Opening Tip
Duke (7-1), ranked eighth in the AP poll and ESPN/USA Today Coaches' Poll, faces unranked Gardner-Webb (3-4) on Tuesday, Dec. 15 at 7:00 p.m. Tuesday's contest will be aired by espn2 with Mike Patrick and Len Elmore calling the action.
The Last Time Out
Duke posted an 80-71 win over St. John's on Saturday, Dec. 5 in their last outing. The Blue Devils jumped out to a 40-24 lead at the half and finished the game with five double-figure scorers.
Junior Kyle Singler led the way with 17 points, eight rebounds, three assists and four steals.
The starting guard tandem of Jon Scheyer and Nolan Smith combined for 31 points, nine assists and zero turnovers in 70 minutes of action. Smith had 16 points for his sixth straight game with 10 or more points, while Scheyer had 15 points and a team-high six assists. Scheyer has now played turnover free basketball in five games this season.
Seniors Lance Thomas and Brian Zoubek provided punch off the bench with 11 points each. Thomas also matched a game-high with eight rebounds, while Zoubek added seven boards. The duo finished the game 9-of-12 (.750) from the field and 4-of-5 (.800) from the foul line.
The Blue Devils outrebounded the Red Storm, 41-31, including a 17-8 edge on the offensive glass. Duke converted its 17 offensive rebounds into 17 second chance points. Thomas led the way with four offensive rebounds, while Zoubek and Scheyer each grabbed three.
Numbers Game
l Duke has won 33 straight home games against unranked opponents, dating back to a 68-67 loss to Florida State on Feb. 4, 2007.
l The Blue Devils have won a current NCAA-best 73 consecutive non-conference home games.
l Duke has won 46 straight December home games, dating back to a 62-61 loss to Michigan on Dec. 8, 1996.
l The Blue Devils are 157-26 in the month of December under Coach K. Duke is 49-4 since the 1999-2000 season in December contests.
l The Blue Devils have won 12 straight games against teams currently in the Atlantic Sun Conference. Duke is 15-4 all-time against the Atlantic Sun.
l Duke is ranked No. 1 in the latest RPI (ratings percentage index), according to CollegeRPI.com and Sagarin. The Blue Devils' strength of schedule is also ranked first overall by CollegeRPI.com.
l Duke leads the ACC and ranks third nationally in free throw percentage at .798 (134-of-168). Five Blue Devil regulars (Andre Dawkins, Nolan Smith, Jon Scheyer, Kyle Singler & Lance Thomas) are shooting 80.0 percent or better from the charity stripe.
l Senior Jon Scheyer has led Duke in assists in all eight games this season. He ranks second nationally in assist-to-turnover ratio (8.4:1) and has played five turnover-free games on the year.
l Junior Nolan Smith has scored 10 or more points in six straight games to match a career-best string of double figure scoring games. He is averaging a team-high 17.2 points per game, an +8.8 ppg. scoring jump from a year ago.
l Duke is the only team in the ACC with more than two players ranked in the top 10 in scoring. Nolan Smith (third, 17.2), Kyle Singler (fourth, 17.1) and Jon Scheyer (eighth, 15.8) combine to score 50.1 of Duke's 82.0 points per game (61.1 percent).
l Jon Scheyer has reached double figures in scoring in 20 straight games. He has scored 10 or more points in 84 of 112 career games.
l Junior Kyle Singler has made at least one three-point ifeld goal in 23 consecutive games. He currenlty ranks 14th at Duke with 134 three-point field goals in 79 career games.
l Andre Dawkins is second in the ACC in three-point field goal percentage (.513) and tied for second in threes per game (2.5).