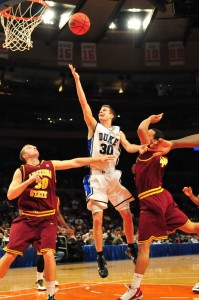 [8 AP/7 Coaches] Duke (13-2, 1-1 ACC) vs. Boston College (10-6, 1-1 ACC)
Wednesday, Jan. 13, 2010  •  7:00 p.m.  •  ESPN
Cameron Indoor Stadium (9,314)  •  Durham, N.C.
The Opening Tip
Duke (13-2, 1-1 ACC), ranked eighth in the AP poll and seventh in the ESPN/USA Today Coaches' Poll, faces Boston College (10-6, 1-1 ACC) at Cameron Indoor Stadium on Wednesday, Jan. 13 at 7:00 p.m. Wednesday's game will air on ESPN with Rece Davis, Bob Knight and Holly Rowe calling the action.
The Last Time Out
Duke dropped a 71-67 decision at Georgia Tech on Saturday in its last outing. The Blue Devils, playing their third game in six days, shot just 21.4 percent (6-of-28) from three-point range in the contest.
Senior Jon Scheyer continued his All-America caliber season with 25 points and six assists in 39 minutes of action. Freshman Mason Plumlee was the only other player in double-figures with 10 points to go along with a team-high six rebounds, three assists, two blocks and a steal. Sophomore Miles Plumlee added eight points, five rebounds and two steals in the loss.
Juniors Nolan Smith and Kyle Singler combined for just 18 points on 6-of-23 shooting after entering the game averaging 34.4 points per game combined. Smith's nine-point effort snapped a string of 12 straight double-figure scoring games this season, while Singler failed to reach double-figures for just the 15th time in 86 career games.
Duke controlled the glass (20-12 rebounding edge) en route to taking a 35-29 halftime lead. Georgia Tech turned the tables in the final 20 minutes, outrebounding the Blue Devils 26-12 and outscoring them 42-32.
Numbers Game
l Duke is the only team in the country to rank in the top 10 in both the AP Poll and ESPN/USA Today Coaches Poll as well as the College Basketball News Ratings Percentage Index (RPI) and Strength of Schedule (SOS). The Blue Devils, eighth in the AP Poll and seventh in the Coaches Poll, rank second in the RPI with the 10th-best SOS.
l Wednesday's game is the 299th consecutive sellout at Cameron Indoor Stadium. The last time Duke did not have a sellout at home was on Nov. 16, 1990, against Boston College.
l The Blue Devils have won 11 straight and 41 of the last 43 games at Cameron Indoor Stadium.
l Duke has won 22 of its last 24 games in the month of January. The Blue Devils are 201-56 under Mike Krzyzewski in January games. Duke has lost back-to-back games in January just two times in the last 12 seasons.
l The Blue Devils have won 36 consecutive home games against unranked opponents.
l Senior Jon Scheyer leads the NCAA in assist-to-turnover ratio (4.65:1) while playing 35.5 minutes per game. He has led Duke in assists in all 15 games with six turnover-free games. Scheyer also ranks ninth in the NCAA at 6.2 assists per game.
l Nolan Smith has 26 three-point field goals and is shooting an ACC-best 51.0 percent from three-point range. He is one three-point field goal shy of matching his single season high. Smith entered the year shooting 36.2 percent (49-of-135) from three-point range.
l Duke has had 18 individual 20-point scoring games this season, including seven by Jon Scheyer. The Blue Devils have had multiple 20-point scorers in the same game six times on the year.
l Jon Scheyer has scored 20 or more points in six of the last seven contests, including a pair of 30-point efforts. He has scored 15 or more points in 13 of 15 games this season.
l Junior Nolan Smith is averaging 19.5 points per game, while shooting 58.1 percent (43-of-74) from the field and 64.0 percent (16-of-25) from three-point range, in the last six games.
l Miles and Mason Plumlee are averaging 16.5 points and 11.8 rebounds per game combined over the last four contests. The duo is shooting 60.9 percent (25-of-41) from the field during that span.