ATLANTA (AP) - Gani Lawal scored 21 points, including a crucial shot with just over a minute remaining, and No. 20 Georgia Tech bounced back from a dismal loss with a 71-67 upset of fifth-ranked Duke on Saturday.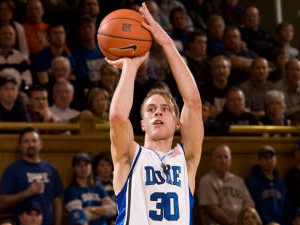 Lawal worked the boards hard, putting back two straight misses during one pivotal stretch, and Georgia Tech (12-3, 1-1 Atlantic Coast Conference) went ahead for good on yet another hustle play. Zachery Peacock grabbed an airball under the basket and flipped in a shot that put Georgia Tech ahead 62-60 with 1:52 remaining.
After Kyle Singler missed again for Duke (13-2, 1-1) on a 3-pointer - the junior forward was 2-of-13 from the field - Lawal knocked down an awkward turnaround jumper from about 10 feet to give the Yellow Jackets some breathing room.
Georgia Tech avoided an 0-2 start in conference play and made up for a 73-66 loss to state rival Georgia on Tuesday. Jon Scheyer led the Blue Devils with 25 points.
Duke, which had a seven-game winning streak, was stymied by a miserable performance beyond the arc (6-of-28 from 3-point range), had its slim depth exposed by foul trouble (Lance Thomas picked up his fifth with more than 10 minutes left, three other players finished with four) and didn't provide Scheyer much help.
The star point guard followed up a 31-point effort against Iowa State with another strong showing, also chipping in with six assists while handling the bulk of the scoring load. But Mason Plumlee, with 10 points off the bench, was the only other Duke player in double figures. Singler was held to nine points - nearly seven below his average.
The Yellow Jackets knew they couldn't afford another effort like the one they had against Georgia, having already lost their ACC opener at home to Florida State in overtime. They managed to avert an 0-2 start in conference play by turning up the defensive pressure on Duke, pressing and trapping much more than they did against the Bulldogs, and crashing the boards in the second half against a team playing its third game in six days.
The Blue Devils had a 20-12 rebounding edge in the opening half, but Georgia Tech dominated 26-12 after the break. Lawal led the Yellow Jackets with nine rebounds, including back-to-back plays that gave the home team a big boost.
Iman Shumpert missed on a drive, but Lawal slammed home the rebound with a thunderous dunk that left the backboard shaking. After Duke turned it over at the other end, Derrick Favors missed for the Yellow Jackets. But Lawal was in the right place again, grabbing the rebound and banking it in for a 52-47 lead.
Each team had its run early on. Duke ripped off 12 straight points shortly after the opening tip, then Georgia Tech responded with a 14-2 spurt. The Blue Devils led 35-29 at halftime, and the margin was never more than that the rest of the way.