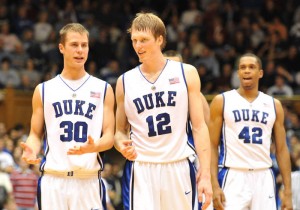 #8 Duke (17-3) travels to our nation's capital to take on #7 Georgetown (15-4) at the Verizon Center Saturday afternoon at 1 pm eastern standard time.
Georgetown ripped off 14 unanswered points to open their game against Syracuse on Monday evening. In the process, the Hoyas knocked down four 3-pointers from well beyond the arc. It looked as if the Orange had a long night in front of them.
Syracuse responded by stepping up their defensive pressure, forcing 10 Georgetown turnovers, and outscoring the Hoyas 34-15 to take a 34-29 halftime lead into the locker room. Syracuse forced nine more Georgetown turnovers during the second half. On offense, Syracuse pushed the pace and punished Georgetown in transition.
The game ended with Syracuse winning 73-56. That is a 31 point differential for the Orange after they committed themselves to applying perimeter pressure, forcing turnovers, and scoring in transition. Hopefully, the Duke coaching staff studied this game film as Coach Krzyzewski's good friend Coach Boeheim laid out a blue print for taking it to the Hoyas.
Georgetown has three perimeter players with consistent 3-point range: Austin Freeman (.473), Jason Clark (.440), and Chris Wright (.379). Georgetown's perimeter players do not pound the ball into the court they achieve open looks at the basket by moving the ball around via the pass. In order to contain a potential 3-point barrage, Duke will need to pressure the ball on the perimeter just like Syracuse.
Austin Freeman (6'4" 235) is the most potent perimeter player. A solid shooter, Freeman also has the strength and speed to penetrate and finish above the rim.
Frontcourt activity centers around Greg Monroe (6'11" 250) last season's Big East Rookie of the Year and a player all Duke Fans are intimately familiar with as Duke recruited Monroe for over two years. Monroe is a talented passer out of the high post, who has the ability to make perimeter jump shots, and drive to the basket. He averages a double-double of 14.8 points and 10.1 rebounds per game.
On January 26, 2010 Monroe was named to the Big East Conference's Weekly Honor Roll for the fourth time this season. Monroe averaged a double-double in conference wins over Pittsburgh and Rutgers. In the loss to Syracuse, Monroe was held to eight points and four rebounds.
Georgetown's fifth starter is Julian Vaughn (6'9" 245). Vaughn averages 8.2 points and 5.3 rebounds per game. At 24.1 minutes per game, Vaughn is the only starter averaging less than 30 minutes of playing time per game. Coach John Thompson III favors a thin rotation.
Hollis Thompson (6'6" 180) comes off the bench to the tune of 20.1 minutes per game and contributes 3.5 points and 2.4 rebounds per contest.
Georgetown and Duke have had two common opponents on the year: Connecticut and St. John's. Duke defeated Connecticut 69-59 and St. John's 80-71. Georgetown defeated Connecticut 72-69 and St. John's 66-59.
The keys to the game will be:
1. Defensive intensity on the perimeter: Duke must pressure the ball for 40 minutes in order to prevent Georgetown from achieving good looks at the basket. Additionally, the best way to contain Greg Monroe is to deny him the basketball.
2. Scoring points in transition: Duke needs to push the pace and score in transition off of turnovers.
3. Execute in the half court: Duke must execute ball screens and back cuts to achieve easy inside looks at the basket.
This game is a solid preview of the type match-up Duke can expect to see in March. While most folks are focused on the intense conference games being played across the country, this game provides a look at two Top 10 teams going head-to-head in late January. Both teams possess star players in their line-ups, however, do not be surprised if a role player steps up and provides the difference in securing his team a victory.