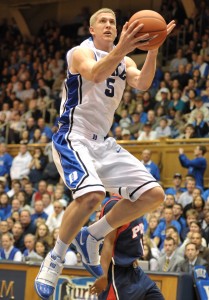 Hey Duke fans!  Maybe it's time to notice just how good this years Duke Men's Basketball team is playing.   It wasn't that long ago when I'm pretty sure that I was the first to state Jon Scheyer would easily win ACC Player of the Year if it were voted upon today.  It seems as if everybody in the media grabbed that and ran with it, but let's face it, the numbers were easy to see if you were paying attention.  Here are some other obvious reasons Duke has been successful to date -
Mike Krzyzewski - Pull up a comfortable chair for the remainder of the season for Kryzewski is doing one of his best coaching jobs to date with this years team.  There is a fire and determination instilled in this years Duke team and one might say Krzyzewski is at his best when there are questions or concerns.  In short, he seems prepared for all of the challenges to date but he would be the first to tell you that in ACC play any weaknesses will be exposed.  So far this season, Duke has adjusted with the exception of maybe the Wisconsin game where they still had a chance to win in a tough environment had execution been a bit better down the stretch.  Duke has some solid wins on the ledger which will certainly help when the NCAA announces the parings in March.  As long as I have been watching Duke Basketball, Krzyzewski is doing as good a job to date as I have seen and yes, I was there the very day he walked onto the Duke campus for the first time.
Roles defined -I cannot remember the last team that seemed to understand their roles within the team at such an early point in the season. Krzyzewski and his staff have made each player understand what is expected of them and so far, so good.  He will no doubt tinkle a bit more as the season progresses in an attempt to push all of the right buttons. Whether it is Lance Thomas, Brian Zoubek or Andre Dawkins, everyone has been doing a good job of translating what is expected of them to the court.

Defense - Krzyzewski changed up Duke's defense this season in order to fit his personnel and his schemes have been very successful.  The Blue Devils are really getting after it in half court and last evening showed some pressure full court.  If one were lucky enough to hear the players come out of the locker room at the beginning of any home game, they would hear the emphasis placed on defense.  "How are we going to win," asks one player to his of his teammates who are all gathered together and the response is "Defense," in unison followed by the hungry sounds of twelve players going "woof, woof, woof."  In short, the Blue Devils place great emphasis on defense as they always have, yet many never saw this coming.  All one needs to do is take a look at the stats to realize that to date, this years group is holding teams to fewer points than at anytime in the decade.
The Big Three - I've heard no suitable names for Duke's core of Jon Scheyer, Nolan Smith and Kyle Singler to date, but I cannot remember a team having three more consistent players.  The trio are accounting for the majority of points scored for the Duke offense and they all seem to relish their roles.  Nolan Smith has been solid and he consistently scores just under twenty points per game while playing cool and under control.  Kyle Singler is taking on a new role playing on the perimeter but he is adjusting before our very eyes and the pre season ACC Player of the Year seems more intent on winning than he does fulfilling individual or post season honors.  The aforementioned Scheyer has been nothing short of first team All American with a most amazing assist to turnover ratio and his heady play.  Not many teams around the country have a trio like Duke does and if you doubt that, start scanning the rosters.  As long as these three player produce as they have, Duke will have a most successful campaign.
Plumlee's development - Mason Plumlee showed signs of adjusting to the physical nature and speed of the game in the Blue Devils win over Iowa State.  Mason is still getting his timing down after a late pre season injury kept him out of the lineup.  The Blue Devils seem determined to have him ready for the coming rigors of ACC play.  It was visibly evident that Mason can do things other front court players cannot just watching him last night.  Once Mason starts finishing on a more consistent basis near the basket, Duke will be even better.
Offensive production - Many wondered where Duke's offense would come from this season and Duke has answered that question.  The Blue Devils are among the nations leaders in points per game and this has come against pretty good competition.  Duke still hits their three point shots and the team seems to be playing together making the extra pass when needed and taking a good shot when presented.
Home Cooking - How impressive is it when a team defeats the pre season third rated team in Clemson with relative ease in Cameron?  What's that?  It's Cameron and Duke always plays well, eh?  Well, this season they nailed down a win in the all important ACC opener by whipping the Tigers without eighty five percent of the Cameron Crazies, the cheerleaders, full band and well, you get it.  Duke has been tough at home and the Cameron Crazies will prove to play an important a role with a developing team.  The team has kept up their end and if the students do the rest of the way, then Duke may well go through the regular season undefeated at home.
So, Duke is 13-1 headed into the grinder known as the ACC regular season and to date are ranked fifth in both polls, yet there are still some who can find faults.  I'm not talking the media here, but amazingly some of the fans.  Duke was defeating a decent Iowa State team by 21 points, yet message boards had many concerned over Andre Dawkins playing time or the worries of players getting tired.  Have we become that jaded as a fan base that many cannot recognize that people would kill to trade places with a Blue Devil fan?  What I am saying is instead of non stop worrying about recruiting or the future, wake up and check out the here and now for this Duke team cannot give you much more effort than they already have.  It's no secret anymore, this years Duke team is pretty darn good.