Game 23
Duke (18-4, 6-2 ACC)
vs. Boston College (12-10, 3-5 ACC)
Saturday, Feb. 6, 2010 l 2:00 p.m. l ESPN
Silvio O. Conti Forum l Chestnut Hill, Mass.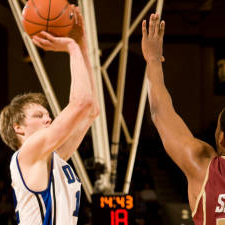 The Opening Tip
Duke (18-4, 6-2 ACC), ranked 10th in the AP poll and ninth in the ESPN/USA Today Coaches' Poll, faces Boston College (12-10, 3-5 ACC) at Silvio O. Conte Forum on Saturday, Feb. 6 at 2:00 p.m. The game will air on ESPN with Mike Patrick and Len Elmore calling the action.

The Last Time Out
Kyle Singler scored a career-high 30 points and went 8-of-10 from three-point range as Duke posted an 86-67 win over No. 21 Georgia Tech on Thursday at Cameron Indoor Stadium.
Jon Scheyer added 21 points, seven assists and two steals, while Nolan Smith delivered 14 points and four assists.
Duke knocked down 12-of-18 three-point attempts en route to outscoring the Yellow Jackets 36-9 from behind the arc. The Blue Devils posted a 17-1 edge in points off turnovers and outrebounded Georgia Tech, 40-32, in the contest. Duke grabbed 17 offensive rebounds on the night.
Duke 79, Boston College 59 - Jan. 13, 2010
Duke topped Boston College, 79-59, in the first meeting of the year between the two schools as Nolan Smith had 24 points, four assists and three steals to pace the Blue Devils. Kyle Singler added a double-double with 15 points and 10 rebounds, while Miles Plumlee and Jon Scheyer each had 12 points.
The Blue Devils posted a 40-27 edge on the glass, including 18 offensive rebounds. Brian Zoubek grabbed a game-high 11 boards, including five offensive.

Numbers Game
Duke is ranked 10th in the AP poll, marking the 49th consecutive week ranked in the top 10. The Blue Devils are 35-13 all-time when ranked 10th in the AP poll.
Duke leads the NCAA in free throw percentage at 76.6 percent (390-of-509). The Blue Devils are on pace to establish the third-highest free throw percentage in school history and the top mark under Mike Krzyzewski.
Duke is 11-3 on the year against teams ranked in the top 100 of the RPI, including an 8-3 mark against top 50 opponents. The Blue Devils are fifth in the RPI, while Boston College entered the week 93rd overall.
Jon Scheyer, Nolan Smith and Kyle Singler make up the top scoring trio in the NCAA at a combined 53.6 points per game. The threesome has accounted for 27 of Duke's 28 individual games with 20 or more points scored.
Jon Scheyer leads the ACC in four statistical categories and is the only player in the league to rank in the top 5 in six statistical categories; scoring (second, 18.8 ppg.), assists (fourth, 5.7 apg.), free throw percentage (first, .902), three-point field goals (first, 2.7 3pg.), assist-to-turnover ratio (first, 3.2:1) and minutes (first, 36.3 mpg.).
Kyle Singler is averaging 20.5 points per game with 20 or more points in four of the last six contests. He had a career-high 30 points on 8-of-10 three-point shooting against Georgia Tech and is shooting .436 (17-of-39) from the three-point line during the six-game stretch.
Junior Nolan Smith has only committed six turnovers in 183 minutes in Duke's five true road games. He has averaged 19.7 points per game in the Blue Devils' last three road games.
Jon Scheyer (18.8 ppg.) and Nolan Smith (18.0 ppg.) are averaging a combined 36.8 points per game. The duo ranks fifth among the top scoring backcourts in Duke history and tied for 10th in ACC history.
Senior Lance Thomas is averaging 7.6 points and 8.2 rebounds per game over the last five contests with 10 or more rebounds in two games and one double-digit scoring outing.
Miles Plumlee and Mason Plumlee have combined for 43 dunks on the year. Together the brother tandem is averaging 10.7 points, 9.2 rebounds and 1.8 blocks per game.
Brian Zoubek has 70 offensive rebounds and 69 defensive boards on the year
Checking in on ...
#2 Nolan Smith - +9.6 ppg. increase from a year ago leads the ACC ... 33 three-point field goals ... shooting a career-best 45.8 percent from three-point range
#3 Seth Curry - Sitting out the 2009-10 season due to NCAA transfer rules
#5 Mason Plumlee - Second on the team with 16 dunks ... tied for second with 15 blocks in 16 games
#12 Kyle Singler - 20 points in the second half on Thursday ... has started 92 of 93 career games
#20 Andre Dawkins - Fourth on the team with 28 three-point field goals ... shooting 40.6 percent from three-point range
#21 Miles Plumlee - Leads the team with 27 dunks ... shooting 60.6 percent (20-of-33) from the field in league play
#30 Jon Scheyer - Has scored in double figures in 21 of 22 games with 10 games with 20+ points ... ranks in the top 10 of the ACC in nine statistical categories
#34 Ryan Kelly - 14 blocked shots ... one of five Blue Devils with 10+ blocks
#42 Lance Thomas - Five or more rebounds in five straight games ... leads the Blue Devils with 11 charges taken
#55 Brian Zoubek - Five or more rebounds in 15 of 22 games ... four or more offensive rebounds nine times
Big Three Pace Blue Devil Offense
Jon Scheyer, Kyle Singler and Nolan Smith combine to average 53.6 points per game or 65.3 percent of Duke's scoring.
Scheyer is second in the ACC in scoring at 18.8 ppg., while Smith (18.0 ppg.) and Singler (16.8 ppg.) rank third and seventh, respectively.
Texas Southern, Nevada, UC Davis, Fairfield, TCU, Portland State, Purdue and North Dakota State are the only other schools with three players ranked among the top 10 scorers in their respective leagues.
The trio of Scheyer, Smith and Singler is the highest scoring threesome in the NCAA this season and the fourth-highest at Duke under Mike Krzyzewski.