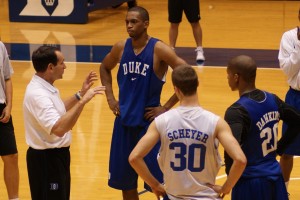 Duke (24-4, 11-2 ACC) vs. Virginia (14-12, 5-8 ACC)
Sunday, Feb. 28, 2010  •  7:45 p.m.  •  FSN
John Paul Jones Arena (14,593)  •  Charlottesville, Va.
The Opening Tip
Duke (24-4, 11-2 ACC), ranked fifth in the AP poll and the ESPN/USA Today Coaches' Poll, travels to Charlottesville to play Virginia (14-12, 5-8 ACC) at John Paul Jones Arena on Sunday, Feb. 28 at 7:45 p.m. The game will air on FSN with Rich Waltz, Dan Bonner and Jenn Hildreth calling the action.
The Last Time Out
Duke posted a 70-52 win over Tulsa on Thursday for its seventh straight victory. Junior Nolan Smith scored a game-high 18 points and added four steals, while Kyle Singler finished with 17 points, five rebounds and two blocked shots.
The senior post tandem of Brian Zoubek and Lance Thomas combined for 12 points and 21 rebounds in the win. Zoubek recorded his third double-double of the season with 10 points and 11 rebounds, while Thomas grabbed 10 boards, including six offensive rebounds.
Duke posted a 47-37 edge on the glass and finished with 18 offensive rebounds. The Blue Devils have now grabbed 17 or more offensive caroms in five straight games.
Jon Scheyer reached double figures for the 27th time this season with 15 points. He went 3-of-5 from three-point distance and now has an ACC-high 79 three-point field goals. Scheyer also had four rebounds and three assists in the contest.
The Blue Devils held Tulsa to 32.8 percent (19-of-58) shooting from the field, including 1-of-10 from behind the three-point arc. Duke has now held 15 teams to under 40 percent shooting and 14 teams to less than 60 points in a game.
Numbers Game
l Duke is ranked fifth in the AP poll, marking the 52nd consecutive week ranked in the top 10. The Blue Devils are 54-23 all-time when ranked fifth in the AP poll.
l The Blue Devils are holding the opposition to an ACC-low 27.0 percent (106-of-393) shooting from three-point range. Duke is allowing just 3.8 three-point field goals per game and has limited its opponents to three or fewer three-pointers in 13 games.
l Duke leads the ACC with +6.5 rebound margin as Kyle Singler, Brian Zoubek, Miles Plumlee and Lance Thomas are each averaging 5.0 rebounds per game or better for the season. The 2000-01 Blue Devils are the only team to accomplish that feat under Mike Krzyzewski.
l Jon Scheyer leads the ACC in four statistical categories and is the only player in the league to rank in the top 5 in seven statistical categories: scoring (second, 18.8 ppg.), assists (fourth, 5.4 apg.), free throw percentage (first, .887), three-point field goals (first, 2.8 3pg.), three-point field goal percentage (fourth, .403), assist-to-turnover ratio (first, 3.06:1) and minutes (first, 36.6 mpg.).
l Brian Zoubek is averaging 9.8 points and 12.3 rebounds (6.0 orpg.) since joining the starting lineup four games ago. He is second in the ACC in offensive rebounds (3.5 orpg) and ranks 13th in total rebounds (7.0 rpg.), while playing 16.7 minutes per game. Zoubek ranks among the national leaders with 16.8 rebounds, including 8.4 offensive boards, per 40 minutes played.
l Duke is collecting a Coach K era-best 15.3 offensive rebounds per game for the year. The Blue Devils are averaging 16.4 second chance points per game and are 23-2 when scoring more second chance points than their opponent. Duke has grabbed at least 17 offensive rebounds in four straight games.
l Junior Kyle Singler ranks in the top 10 in eight statistical categories in conference play: scoring (fifth, 17.9 ppg.), rebounds (t-seventh, 7.4 rpg.), field goal percentage (10th, .400), three-point percentage (first, .421), three-point field goals (second, 2.5 3pg.), offensive rebounds (t-fifth, 2.8 orpg.), defensive rebounds (10th, 4.6 drpg.) and minutes (first, 38.3 mpg.).
l Nolan Smith has scored 466 points this season after recording 487 points in his first two years as a Blue Devils. He is 47 points shy of becoming the 60th player in Duke history to score 1,000 career points.
Checking in on …
#2 Nolan Smith – +9.5 ppg. increase from a year ago leads the ACC … shooting a career-best 42.2 percent from three-point range … tied for third in the ACC with 12 games with 20+ points scored … double figures in 25 of 26 games played
#5 Mason Plumlee – Second on the team with 21 dunks … fourth with 19 blocks … season-high nine rebounds vs. North Carolina
#12 Kyle Singler – Five double-doubles  and six games with 10+ rebounds … averaging 19.3 points per game during current seven-game win streak … 29 three-point field goals in that span
#20 Andre Dawkins – Fourth on the team with 29 three-point field goals … shooting 37.7 percent from three-point range
#21 Miles Plumlee – Leads the team with 28 dunks … shooting 57.5 percent (65-of-113) from the field
#30 Jon Scheyer – 20+ points in five of the last nine games … ranks in the top 10 of the ACC in eight statistical categories … leads the league in minutes, free throw percentage, three-point field goals and assist-to-turnover ratio … second in the ACC with 13 games with 20 or more points … three-time ACC Player of the Week
#34 Ryan Kelly – 14 blocked shots … one of five Blue Devils with 10+ blocks
#42 Lance Thomas – Leads the Blue Devils with 12 charges taken … 5 or more rebounds in nine of the last 11 games
#55 Brian Zoubek – Four or more offensive rebounds 12 times … averaging 9.68points and 12.3 rebounds, while shooting 76.2 pct (16-of-21) from the field since joining the starting lineup four games ago.