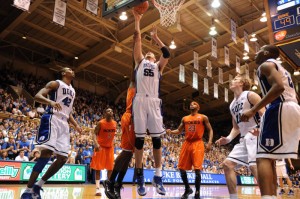 Durham, N.C. - While the "Big Three" of Jon Scheyer, Nolan Smith and Kyle Singler have carried the Blue Devils on their shoulders this season, senior Brian Zoubek is coming into his his own to help at just the right time.
Quite simply, it's been the Big Three and Brian Zoubek of late and as of last night, the seven foot center's 16 rebounds in a key win over Virginia Tech shows consistency from a fourth player.
It's not like Zoubek hasn't had a good season with numbers of 5.5 ppg, 6.9 rpg but he admits that his play of late has been due to a better understanding of his role thus he is taking another step in his career.
"I'm in the game more because I'm being smarter about fouls.  A lot of times I would play pretty well but get two quick fouls and have to come out so that's really frustrating.  So, being smarter and that' s what I've been trying to do all year," said Zoubek when questioned by Blue Devil Nation after his teams 67-55 win over the visiting Hokies.
At the 7:08 mark, Zoubek  made a lay up and one to put Duke ahead 52-47 and that play put the Blue Devils ahead for good.  "We had a if series of plays and got a three point play and then another one after that.  And then we hit had another three point play and that had not scored during that time and that is really disheartening for the other team, especially when they had just made a run to come back," said Zoubek.
Zoubek seemed elated last night, still perky after a tough conference win and he should have been.  He also like the fact that those TV cameras have been edging his way more and more in the locker room.
"You can get a little complacent when you are at your job for a little while and you're doing okay, but then you step up like I did in the Maryland game and it brings on even more responsibility and I want to do that every game."
When asked what the difference has been in the last few games, Zoubek said, "It's a combination of me playing smarter in terms of screening in going right to the basket and right to the boards.  I'm in the  game more from playing smarter and that means more rebounds."
He then continued by stating, "It's been a natural progression for me and after the Maryland game I didn't want to go back, didn't want to regress."
Well, Duke fans and Krzyzewski want Zoubek to remain a main member of the party as well in that Duke is about to hit the stretch run.  And that stretch run will be "Zoubs" as he is called by his teammates final run.
During his time at Duke, Zoubek has staved of a myriad of injuries during his Duke career, but there are no regrets according to Brian.
"You can't look back like that.  There's no regrets on my part, I've loved my time here.  I'm happy with the place I'm at and everything is paying off now."
We'll know in the next few weeks if Brian Zoubek continues his torrid play in the boards and if he does so, it will be even more of a special day when he comes out and talks with the Cameron Crazies one more time on March 6th.  That's when Duke will take on their arch rival North Carolina and the table could be set for a really nice exit.
Despite his obvious joy of being the current media darling for Duke,  Zoubek is quick to deflect the attention off himself.
"It feels awesome.  As well as I have been playing it's just great to have the team in this position in the league.  I love all these guys and we're having a great time and all things are better when you are winning."
Duke is indeed winning pushing their season record to 23-4 overall and 11-2 in the ACC and for now it seems Duke is the Big Three and Brian Zoubek.