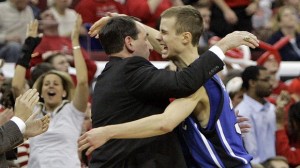 Durham, N.C. - By Sunday morning this will have been quite a week for Duke Basketball Coach Mike Krzyzewski.  Before he took his team eight miles down the road to face their arch rival, Krzyzewski addressed the national media and their questions pertaining to Team USA and the roster selections.
Of course, later that evening, Krzyzewski guided his team to their 20th win of the season with a 64-54 win over North Carolinam breaking a mini drought for the Blue Devils in the series.  While it wasn't always pretty, the Duke coach has his team playing lock down defense and that eventually led to his team's 8th win in conference.
So, with all the hype and duties he had during the much anticipated first game of the season between the two rivals, he still had time to talk a bit about how he intends to go about winning another Gold Medal.
During last evening's press conference, an elated Krzyzewski must have been thinking about what is next.
Let's start with the game versus Maryland on Saturday afternoon, where they face the second place team in a game which means much more than the UNC game did in the ACC standings.
One might think that is more than enough on your platter, but the game is Krzyzewski's 1000th game of his career, a special milestone that few men have seen.
But there is more than the aforementioned, for a bevy of former Duke players will be in attendance as well.  And why are they there?
Well, it is also Mike Krzyzewski's birthday and what an emotional affair it will be for Krzyzewski and the Duke fans and family.
There are times when Duke fans need to slow down a minute and recognize all that Krzyzewski has done at Duke.  There are three national titles, a bushel of ACC championships, a long road of All ACC, All Americans and Players of the Year, and a Gold Medal for the country he loves.
In short, Krzyzewski's whole life and love other than family centers around the sport of basketball.  The man is constantly lobbying in ways to make the game better and is never at a loss for words when talking hoops politics.
But the man they call Coach K, which is now a brand name, has done more than just help Duke and fans of all schools or the sport should recognize that.
He's has made the ACC better and helped guide Team USA back to the top of World Basketball.
Now, I know there are some of you who recognize or feel what I am saying, but there are still some worried that Duke may not get so and so recruit or harp on a kid's playing time instead of waking up and enjoying the here and now and a good team seeking it's 21st win.
This weekend's ticket to the Maryland game is worth it's weight in gold.  Those lucky enough to go will have the opportunity to celebrate with Krzyzewski and it should provide golden memories for all involved.
Quite simply, this is a major milestone and we need to stand up and recognize all the joy he has given to us as fans or those who simply follow college and Olympic basketball.
On Saturday, his team should want to play hard and come away with the win and when he is honored after the game or even before, maybe the Cameron Crazies will sing Happy Birthday to one helluva coach.
Who knows?  The media members may actually recognize how good a job he has done one day and actually award with him an ACC Coach of the Year Award.
Whether they do and give him a strangely elusive reward is one thing, fans cannot control that, but Duke fans can stand up and recognize that they are in the midst of an era of Duke Basketball that will always be golden in our memories.