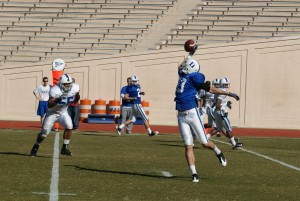 DURHAM, N.C. – Quarterbacks Brandon Connette and Sean Schroeder combined to complete 19-of-32 passes for 179 yards and one touchdown to highlight Duke's 50-snap scrimmage on Saturday afternoon at Wallace Wade Stadium.
"Good work," Duke head coach David Cutcliffe said following the session.  "I really want to get an evaluation of where we are.  You know you are a ways away, but how far away are we?  I wanted to see who the natural playmakers are and give them an opportunity to step up.  It wasn't all that complicated, (the defense) did some pressures and stunts, particularly on third downs.  There were plenty of things to build on. The biggest thing we need to do is continue to play faster; play with speed. "
Schroeder hit on 10-of-13 throws for 127 yards including a 65-yard scoring strike to Conner Vernon.  Connette was nine-of-19 through the air for 52 yards.
"I want to see Schroeder play a little faster; he is not playing as fast as he can play," Cutcliffe noted.  "He has to understand the speed of the game and know there is another level to that.  Connette is just trying to find himself.  He is just learning the terminology, just trying to remember the verbage right now and play natural.  He is doing some nice things at times."
"It was a solid day," said Schroeder. "We obviously can improve on a lot of things; this is only our fourth practice out here. It was a good step in the right direction. With Coach (Kurt) Roper, we are trying to get the schemes down right now and we are cleaning some stuff up."
Tight end Jack Farrell and wideout Tyree Watkins each had a game-best three catches for 14 and 22 yards, respectfully.   Jay Hollingsworth paced the ground game with 19 yards on six attempts.
Defensively, linebacker Abraham Kromah picked up a game-high six tackles while defensive end Kenny Anunike posted four tackles, three tackles for loss and one quarterback sack.  Linebacker Austin Gamble contributed four stops, one sack and one quarterback pressure.
"Our linebackers showed up a little more than they have been," Cutcliffe said.  "It was good to see (Kromah) and good to see Tyree Glover, Austin Gamble and some of the young guys showing up in that regard.  Our secondary is continuing to grow.  I thought Johnny Williams had a nice day."
Duke returns to the practice field on Monday.  The annual Spring Game is set for Saturday, March 27 in Wallace Wade Stadium.
The Blue Devils open the 2010 season at home against Elon on September 4.  Season tickets may be purchased online at GoDuke.com or by calling the Duke Athletic Ticket Office toll free at 1-877-375-3853.  The Duke Athletic Ticket Office is located in Cameron Indoor Stadium and open daily from 8:30 a.m. to 4:30 p.m.