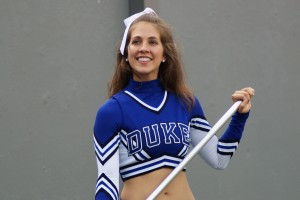 - If you ask nine out of ten people who follow ACC Basketball, they'll tell you that Georgia Tech is the most talented team in the conference.  Then why have they opened up as a 12 point underdog in Cameron Indoor Stadium this evening?
- Just as important as recruiting is the fact that David Cutcliffe managed to keep all but one of his staff members at Duke.  After flirting with one of his two dream jobs, Cutcliffe seems entrenched in Durham for the remainder of his career.
- Of course the aforementioned helps with recruiting for Duke signed all 19 players during yesterdays signing day not including a talented JUCO transfer.
- The Duke Football staff is known for their friendliness and family like atmosphere on the recruiting trail and each coach is assigned specific duties  Make no mistake though in that Marrion Hobby stood out from the bunch this season helping Duke to land kids at key positions.
- The crown jewel of Duke Football's recruiting class is Laken Tomlinson, a Super Prep All American lineman, but the kid which may have the most impact could be Josh Snead from Smithfield, North Carolina who brings more speed to the table for the Blue Devils
- The Duke Women are ranked 6th in the country and their rival UNC is coming to town next week.  Don't you think it's time to get out and support Coach P's troops in this one?
- A trap awaits.  Suppose Coach K's troops get by Georgia Tech tonight ... how hard is it to turn around and fly to Boston for a 2:00 start on Saturday?
- If you are in Cameron tonight, remind yourself that Jon Scheyer has just five more games in the hallowed venue.
- 24 days.  Duke plays ACC rival UNC twice in 24 days, yet  they will have already played Georgia Tech and Boston College twice before that happens.