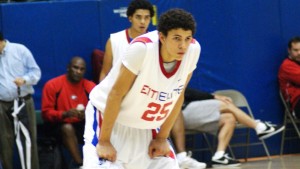 Duke Coach Mike Krzyzewski is a busy man these days and the reasons are quite simple.  His team is fighting for the ACC regular season title with a huge game coming up against Virginia Tech, a team with the leagues second best record this Sunday.
Despite the coming match up and the fact that Duke just defeated Miami on the road, Krzyzewski took time out to see one of the most coveted talents in the class of 2011 in Austin Rivers.
Rivers is, of course, the son of Doc Rivers, a former NBA standout who now coaches the Boston Celtics.  He plays for Winter Park High School, a team fighting their way towards a state title.
It's fair to say Krzyzewski was pleased with Rivers effort last evening in that he scored 41 points and led his team to an easy win.
Rivers nailed 7 of 12 three pointers and 12 of his 41 points came in the final quarter before he went to the bench as Krzyzewski left for his return to Durham.
Rivers gave a verbal to Florida just after their second national championship and he has a lot of Florida ties, but he is indeed looking at Duke, having toured the campus with his Mom and brother in September.
Quite simply, Rivers, like many prospects, commited early and now he has decided to reevaluate the situation.
Rivers maintains he is still committed to Florida, but he is quick to show adoration for the man known as Coach K and is up front that Duke is the only school that could sway him away and that he is open to the possibility.
Despite what some might have you think, it was the Rivers' who contacted Duke, not the other way around, but make no mistake, the Blue Devils were thrilled and open to the prospect of gaining an elite talent.
By the time last season's AAU Nationals came about, the word was generating through the college basketball recruiting world that Rivers was wavering on his early verbal and Krzyzewski and the Duke staff had been watching Rivers since the Peach Jam, an AAU event in Augusta.
Duke has had past success with young men with NBA lineage.  One of those who comes to mind is current assistant coach Chris Collins, whose Dad, Doug, has coached and announced for the league.
Currently on the Duke roster, Seth Curry is the son of Dell Curry, another NBA standout, and, of course, Nolan Smith, the son of Derrick Smith.
Gerald Henderson joined the Charlotte Bobcats this season but his Dad was Gerald Sr., a Celtic star during championship years.
Don't forget Mike Dunleavy, son of  Mike Dunleavy, Sr., and Danny Ferry, the current GM of the Cleveland Cavaliers and his Dad, Bob, was a former player and lauded for his GM work in Washington.
In short, there has been an NBA flavor to Duke's roster for a good while now and you can bet they would love for Austin Rivers to join the list.
Rivers is averaging 24.5 ppg this season and his team will next face Edgewater [26-3] this coming Tuesday evening as the play-offs continue.
If his Winter Park team advances to the finals, it is the same day as the UNC at Duke contest in a game he is scheduled to make.  While this could certainly derail the visit, one must keep in mind that tip-off is at 9:00 EST, so there is a chance he could make it.
Duke fans hope that Rivers will be able to take in some of the atmosphere in the season finale in Durham, where ESPN Gameday will be on the scene.
Either way, Austin Rivers is genuinely interested in Duke and it is obvious that Krzyzewski wants to coach another NBA coach or player's son.
For more on Austin Rivers and Duke Basketball Recruiting, join Blue Devil Nation Premium for full site access and discuss the latest on our members-only message board.