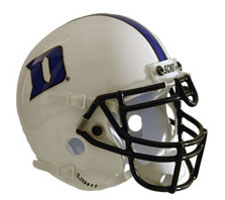 March Madness is in full swing for the Blue Devil Nation, and this weekend is no exception. The men's and women's basketball teams will both hit the hardwood in the Sweet 16 of the NCAA tournament, hoping to punch their tickets to the Final Four by the end of the weekend. On Saturday afternoon, the Blue Devils will hit the gridiron in the annual spring football game at Wallace Wade Stadium. The event is free to the public and starts with the Blue Devil Walk at 11:00 AM, followed by 4 quarters of football, kicking off at 1:00 PM. After a late night of basketball, come out for a first look at the 2010 football team, and a first chance to support Coach Cutcliffe in his decision to stay at Duke, on a sunny Saturday afternoon in Durham.
Spring Game Preview
The spring game will cap off the 2010 spring practice schedule for the Blue Devils, one that started over six weeks ago and included 14 intense practices. Coach Cutcliffe and his staff are beginning to build depth within the program, and competition at several positions has kept spring practices physical and lively. There is palpable enthusiasm around the program, and obvious talent, though inexperienced, on the field. Overall, Coach Cutcliffe is pleased with the progress this spring: "I like where this team is right now. There are some big questions to answer. I like the personality of the team, but the fact is that we're young. Facts are that we've been consistently inconsistent. It doesn't surprise me. But we've also really shown flashes of excellence in a lot of areas, and we have a lot more athletes on the field – that's evident to anybody that's watched us play this spring."
Three newcomers will be highly visible during the spring game in TE Cooper Helfet (#81), RB Josh Snead (#9), and QB Brandon Connette (#18). Helfet, a 6'4" junior college transfer, joins a talented group of tight ends in Brett Huffman and Brandon King. The tight ends will supplement Duke's already strong receiving corps, which returns three 50-catch receivers in Donovan Varner, Conner Vernon, and Austin Kelly. Tyree Watkins has also shown flashes this spring, after an injury-shortened redshirt year in 2009. Snead, a January enrollee from nearby Smithfield, NC, has impressed with his speed and will likely share some carries in the backfield on Saturday with Desmond Scott and Jay Hollingsworth. Connette, another January enrollee, has shared the quarterback responsibilities this spring with Sean Schroeder in Sean Renfree's absence. After some inconsistency in early spring practices, Brandon stood out in last Saturday's scrimmage. "You couldn't but notice Brandon Connette's play and his running," Coach Cutcliffe noted. "He's one of those young players I'm talking about flashes, and in this scrimmage did a much better job of taking care of the ball." Also look for new faces on the defensive side of the ball, including a familiar face in Johnny Williams, who has won the starting cornerback job after transitioning over from wide receiver this spring.
On Saturday, expect the team to continue to show flashes of its potential, led by the group of star receivers – Donovan Varner, Conner Vernon, and Austin Kelly. Fans should notice an overall increase in speed and playmaking ability across the board with this year's team, which should make for an exciting Saturday afternoon. "I want people to come out and watch us because I'm going to let them play football," said Coach Cutcliffe, "Very similar to what we've been doing – probably our best units against our best units. And I'm anxious to see if we're as crisp and quick and as fast as I think we've become. I want to see us play that fast."
Spring Practice Recap
The Blue Devils started spring practice early this season, hitting the field on February 14. At the start of practice, Coach Cutcliffe spoke with the Blue Devil Nation about several points of emphasis for the team this spring. Here's a quick recap of some of the highlights:
1. New defensive schemes: Marion Hobby takes over this year as the Defensive Coordinator, and the emphasis has been on pressure. With only 6 defensive starters returning, we can expect to see some new faces on the defensive side of the ball. Johnny Williams has done well in the transition from wide receiver to cornerback and has been playing with the first unit from day one of practice. The secondary has shown flashes of playmaking ability this spring, led by Williams, Chris Rwabukamba, Matt Daniels, and Anthony Young-Wiseman. Look for the young linebacking corps, led by Damian Thorton, to try bring pressure from all angles. With the departures of Vince Oghobaase, Vincent Rey, and Leon Wright, Duke will need a new group of leaders and playmakers to emerge on defense. As to what to expect for Saturday's scrimmage, Coach Cutcliffe said, "I want to see how well our defense attacks taking the ball away, as opposed to how well our offense protects it – that's been a big emphasis this spring. So that'll be a culmination of a lot of work in that regard."
2. Kicking game: Coach Cutcliffe is looking for consistency in the kicking game this spring. With a young team, field position will be a key to success this fall, and this starts with a veteran group of kickers, led by Will Snyderwine, Nick Maggio, and Kevin Jones. Similarly, kick returns need to become a strength for this young team, which showed flashes of potential at times last year. Expect returning lettermen Desmond Scott, Conner Vernon, and Johnny Williams to be given the first opportunities to win the return jobs, though several other speedsters will get an opportunity.
3. Running game: There's nowhere to go but up for Duke's running game and this has been a significant point of emphasis this spring. With the likely starting QB Sean Renfree sidelined as he recovers from ACL surgery, the ground game has received plenty of reps, led by returning lettermen Desmond Scott, Jay Hollingsworth, Patrick Kurunuwe, and newcomer Josh Snead. With some uncertainty at the quarterback position and four starters returning along the offensive line, the running game needs to become a serious threat for the 2010 Blue Devils.
It's already been a busy spring for the coaching staff, hosting dozens of recruits and already locking up four commitments for the class of 2011. BDN will have more coverage of the incoming class of 2010 and an early look at the class of 2011 in the coming weeks.