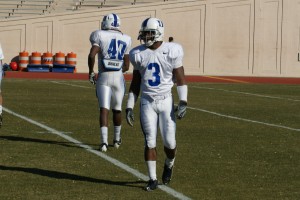 DURHAM, N.C. – Safety Jordon Byas and defensive end Justin Foxx scored defensive touchdowns as the Blue Devil defense forced five turnovers to highlight Duke's 75-play scrimmage on Wednesday morning at the Brooks Practice Field.
Byas scored the morning's first touchdown by intercepting a Brandon Connette pass and returning the football 41 yards to the end zone.  Foxx later scooped up a fumble and darted 35 yards for a score.  Defensive end Kenny Anunike had one fumble recovery while defensive tackle Sydney Sarmiento and cornerback Ross Cockrell carded one interception each.
"We had good work today; a lot of things happened," said Duke head coach David Cutcliffe.  "We made it very game-like; played field position; played the game. The best thing that happened was our defense taking the ball away.  Jordon Byas intercepted a pass early, took it back for a score, and kind of set the tempo of the game."
Linebacker Abraham Kromah spearheaded the defensive attack with four tackles for loss including one quarterback sack.  Anunike, Foxx, linebacker Austin Gamble and linebacker Tyree Glover also secured sacks while nose guard Curtis Hazelton was credited with two tackles for loss.
"I really like what we're doing as a defense right now," Kromah said.  "We've got a lot of young guys learning the system and making plays.  It's exciting."
On offense, running back Patrick Kurunwune rushed 13 times for a game-high 82 yards with one touchdown while Josh Snead added 56 yards and two touchdowns on 10 attempts.  Snead's 44-yard touchdown run marked the longest play from scrimmage on the day.  In addition, Jay Hollingsworth chipped in 46 yards on the ground on 10 carries.
Quarterback Sean Schroeder completed 10-of-20 passes for 116 yards including a 36-yard touchdown pass to wideout Conner Vernon.  He was intercepted once and added a seven-yard touchdown run.  Connette finished the day eight-of-16 through the air for 97 yards with two interceptions and a two-yard scoring strike to tight end Cooper Helfet.  Both quarterbacks converted two-point PAT attempts via the air with Schroeder hooking up with Austin Kelly and Connette finding Tyree Watkins.
Kelly caught a scrimmage-best four passes for 36 yards while Watkins had three grabs for 33 yards.  Kurunwune and Vernon had two receptions apiece for 24 and 45 yards, respectively.
"It was great to see our receivers, who, with our young quarterbacks, probably haven't been used as much," noted Cutcliffe.  "Our receivers got quite a bit more in the ball game and got more involved – kind of back to playing Duke offense in that regard.  And then Jay Hollingsworth and Kurunwune and Josh Snead were all contributing some runs. We're going to learn a lot from it.  The thing I came out here today hoping to see was, number one, see us compete a little better.  I thought we did that.  Number two was to play with better feet all the way across the board. I'm hoping we did that, and I hope we played lower.  We'll look at the tape and see where we are."
Kicker Will Snyderwine booted a 47-yard field goal and three extra points.
"I'm excited about the nine days that we've had," said Cutcliffe.  "They deserve a little spring break time, and then when we come back, we're going to pick up right where we left off and have two good weeks.  I'm excited – hopefully the weather will be a little friendlier and we won't be the frozen tundra anymore."
Duke's next spring practice is set for Wednesday, March 17.  The annual Spring game will be held at 1 p.m. on Saturday, March 27 in Wallace Wade Stadium.
The Blue Devils open the 2010 season at home against Elon on September 4.  Season tickets may be purchased online at GoDuke.com or by calling the Duke Athletic Ticket Office toll free at 1-877-375-3853.  The Duke Athletic Ticket Office is located in Cameron Indoor Stadium and open daily from 8:30 a.m. to 4:30 p.m.