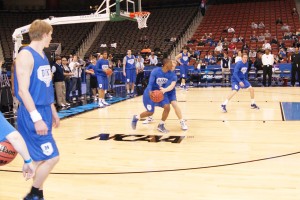 JACKSONVILLE, Fla. - It's been quite a ride for the 2010 Duke Blue Devils who roll into the tournament having won 12 out of their last 13 games.  But rest assured that these Blue Devils are not resting on their laurels and there is a sense of urgency and focus which you can feel being around the team.
For Duke fans, it's been Nirvana of late for they have already swept their arch rival and won the ACC regular season and tournament championships.  Duke is now on the verge of winning their 30th game of the season when they take on Arkansas Pine Bluff this evening.
Regardless of the phenomenal success, there are still the usual doubters and haters trying to put Duke in their place.  No matter where you turn talking heads are either talking about the weak ACC or Duke getting a favorable draw.  Folks, there is no easy road to the Final Four and if you want to talk easy roads, take a look at Syracuse and their potential journey.
The vaunted Big East has layed an egg thus far, with Georgetown, Marquette and Notre Dame all lost  while Villanova was taken to overtime before escaping while Wake Forest took out Texas, who was ranked third in the initial top 25 poll.
Bottom line, is maybe, just maybe, the ACC is not that bad after all.  Then again, most of the teams play today, including Duke.  Still, Duke is looking like they have a chance to make it to Houston if their demeanor in Jacksonville is any indication.
There is a quiet confidence around the program right now and you can see the desire in the eyes of Krzyzewski and his players.  In short, these Blue Devils do not want to flame out and a loss doesn't even seem to be an option.  If that were not enough, Krzyzewski is recruiting as well, calling to offer a kid on Wednesday evening and just recently added Michael Gbinije and Carrick Felix into the fold.
Despite the accomplishments of this seasons Duke team, it's simply amazing at how little respect they are getting.  Just before the journey to Jacksonville, the usual talking heads on the radio in the Triangle continued their shtick of selling Duke short.  "They will lose when ... they just don't have ..... they always  flame out ... the ACC is weak ... ," say the supposed experts.
Well, they could be right despit their lack of homework, but from my seat most of the Triangle area talking heads with the exception of David Glenn seem to have their heads, well, use your imagination.
Regardless, Duke will have to prove themselves on the court and rest assured, if they reach the Final Four it is because they had a cakewalk draw or the upsets paved their way.
At some point and time, there may be a bit of crow to dish about, but Duke does have to win to make that happen, but this team knows that and seems ready for the challenge.