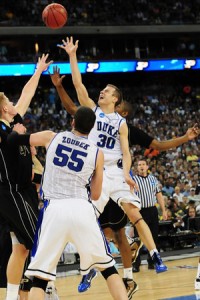 HOUSTON - The Duke Blue Devils earned a berth in the NCAA's Elite 8 with a  huge second half effort against Purdue while Baylor had no trouble whatsoever disposing of St. Mary's.  The two teams will meet at 4:04 CST on Sunday and there is no reason to think this game will not go to the wire.
Baylor will be the home team here in that their fans have traveled as if it were a football game and they'll fill the Reliant Center in an effort to support their team.  FWIW, Baylor was 15-1 this season and 6-2 on neutral sites.
The Bears hold their opponents 65.3% from the field and allow 38% from the field, so like Duke, they are a solid defensive team.  That defense starts with 3rd team All American Ekpe Udoh, a player they nicknamed the "nightmare," in that he leads an extremely tall and athletic front line with 6-10 Anthony Jones and 7-0 cent Josh Lomers who has been playing his best ball of the season.
In short, the Bears average 7 blocks per game, but their offense is just as good.  The Bears average 77.1 ppg and the leader of the bunch is LaceDarius Dunn, second team all Big 12.  Dunn drops in 19.4 a game and he is capable of erupting, as is cat quick point guard Tweety Carter, who tosses in 15.1 ppg and leads the team in assists.
Baylor also has one of the best sixth men in the country in the athletic Quincy Acy, a 6-7 soph who had season highs in key games during Baylors run to the tournament.
Duke, on the other hand, plays good defense as well, but to win the game, Duke will have to be on their shot offensively.  They will also have to hit their free throws because Baylor is almost as good from the free throw line and the Bears are deadly from the stripe when the game is on the line and or crunch time.
Let's not forget that Baylor averages 7 three pointers per game, so Duke will need to run at them to push them off the stripe.  Duke will also face a zone defense where it is extremely hard to score inside.
As for rebounding, both teams are very good and Duke will not have the advantage they've enjoyed there during the season.  The bottom line is that Baylor is built to give a team like Duke fits.
A key for the Blue Devils will, of course, be Jon Scheyer who has struggled a bit with his shot of late.  However, Scheyer seemed poised to break out of the mini-slump after his second half performance vs Purdue.
Kyle Singler has been as steady as they come down the stretch and he will need to be dropping the three ball to open up the rest of his game offensively.  His teammate Nolan Smith is just as vital to Duke's efforts in that his defense against cat quick guards will be tested, and foul trouble could doom either team.
Brian Zoubek has been amazing this season, but he has struggled against athletic front courts offensively, yet his rebounding is a must in the contest.  Lance Thomas will have his hands full as well, but the senior seems poised for the challenge in that he was in game focus all day yesterday.
There has probably been no game this season that Duke will need the brothers Plumlee to play well.  Both Mason's and Miles' numbers will be called upon against a solid front court and they must establish themselves as forces inside or it could be a disappointing day for the Blue Devils.
In all honesty, Baylor scares me a bit and even Digger Phelps and Hubert Davis have picked them to advance, but when I know we have Coach K and a tight staff on the sidelines, I feel better.
I expect a pins and needles affair that will go down to the wire and I plan on seeing the team I follow cut down the nets and head back to Durham before leaving for Indianapolis, but again, it won't be easy.
This year's Duke team has had a great season, but one more win makes it a really great season.  Win or lose, these Blue Devils have achieved a lot and Duke fans need to recognize just how awesome this ride has been.
Join Blue Devil Nation Premium and discuss this game and recruiting on one of the best subscription message boards around.  See what you are missing by not having full site access.
Next up on premium - Quincy Miller interview